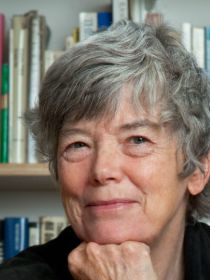 Jane
Mansbridge
Adams Professor of Political Leadership and Democratic Values, Harvard Kennedy School
Past President, American Political Science Association
Connect with Jane
About Jane
Mansbridge's work explores democratic theory, representation, deliberation and feminist theory. She has participated in the Occupy Boston movement, serves on the Host Committee of the Massachusetts National Organization for Women, and is a Dissent sustainer.
Contributions
Publications
"
The 2011 James Madison Lecture: On the Importance of Getting Things Done
"
P.S: Political Science and Politics
45
, no.
1
(
2012
):
1-8
.
Robert Dahl, the first recipient of the Madison Award, warned at the time of receipt (the mid-1970s) of two great problems in U.S. democracy – the inequalities caused by corporate power and the deadlock enshrined in the constitution. Both problems have gotten cripplingly worse since he spoke. Our democratic theory is to some degree at fault. "The resistance tradition" in western democracy, dating from at least the 12th century, facilitates deadlock and inequality by giving greater emphasis to resisting government than to making government work democratically. The future requires a shift in this emphasis.
"
A 'Selection Model' of Political Representation
"
Journal of Political Philosophy
17
, no.
4
(
2009
):
369-398
.
These two articles set out a theory of representation distinct from the "trustee" theory attributed to Edmund Burke and from the "sanctions model" espoused by many current political scientists. They point out that many voters want to select as a representative someone "like them" who will act on consistent inner motivations, in analogy to a ship's gyroscope, and will not be swayed by reelection incentives. The voters will on occasion remove a "gyroscopic" representative and replace him or her with another who comes closer to their preferences or does a better job, but they will, in general, want a gyroscopic representative as a replacement as well.
Oppositional Consciousness
(with ) (
University of Chicago Press, 2001
).
Investigates how collective and personal commitments to change arose in the disability, Latino, Black, women's, LGBT, and other movements, each exemplifying different dynamics.
Beyond Self Interest
(
University of Chicago Press, 1990
).
Brings together the arguably most distinguished analysts of non-self-interested behavior in economics, psychology, social psychology, evolutionary psychology, law, international relations, congressional studies, feminist theory, and other fields, demonstrating in each instance that altruism or public spirit is an important driver in human interaction.
Why We Lost the ERA
(
University of Chicago Press, 1986
).
Studies the struggle for the Equal Rights Amendment from 1972-82, analyzing the "dynamic of deafness" characteristic of social movements, in which the very motivations that lead volunteers to give their time freely to an organization for change also lead them to ignore what the opposition is saying.
Beyond Adversary Democracy
(
Basic Books, 1983
).
Examines in-depth a New England town meeting and a participatory "alternative" workplace, analyzing the typical dynamics that arise in small face-to-face participatory democracies. First, the inequalities that arise follow much the same lines of class, gender, race, and length of residence that typify unequal participation in representative democracies. Second, the fear of conflict and pressures for consensus in such settings also bias decision-making in predictable ways. The book spells out the differences between forms of democracy suited to situations of largely common interest, as in these two democracies, and forms of democracy suited to situations of considerable conflicting interest, as in most nation-states.