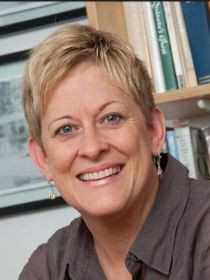 Kathryn
Edin
William Church Osborn Professor of Sociology and Public Affairs, Princeton University
Connect with Kathryn
About Kathryn
Edin's research focuses on the social safety net (welfare and the Earned Income Tax Credit), family structure and child wellbeing, and housing and neighborhoods. She is a member of the MacArthur Network on Housing and Children, which is about to launch a multi-year study of how families at or below Area Median Income make housing, school, and neighborhood tradeoffs. She is Co-Principal Investigator of the qualitative study for this effort, with Stefanie DeLuca. The network's broader goal is to understand how multiple contexts, rather than a single domain (i.e. housing), impacts child wellbeing.
Contributions
Publications
"
Who are the Not Quite Poor: How EITC Recipients and the Families Are Faring
"
Social Service Review
(
forthcoming
).
Offers a detailed examination of the spending plans and patterns of receipients of the Earned Income Tax Credit.
It's Not Like I'm Poor: How Working Families Make Ends Meet in a Post-Welfare World
(with ) (
University of California Press, 2015
).
Discusses how recipients of the EITC are faring economically, how they allocate their EITC dollars, and how the cycle of boom and bust the lump sum creates stimulates both debt and aspirations for upward obility
"
Extreme Poverty in the United States, 1996 to 2011
" (with ).
National Poverty Center
(
2012
).
Shows that the percent of U.S. poor households living on less than $2 per day per person has doubled since welfare return. Also shows that the in-kind safety net – especially Food Stamps – plays a key role in alleviating hardship among these families.
$2.00 a Day: Living on Almost Nothing in America
(with ) (
Houghton Mifflin Harcourt, 2015
).
Illuminates a troubling trend: a low-wage labor market that increasingly fails to deliver a living wage, and a growing but hidden landscape of survival strategies among America's extreme poor. Delivers new evidence and new ideas to our national debate on income inequality.
Promises I Can Keep: Why Poor Women Put Motherhood Before Marriage
(with ) (
University of California Press, 2009
).
Shows how the meaning disadvantaged women ascribe to motherhood, and their high standards for marriage, shape their early life course.
"
Parenting as a Package Deal: Child Involvement among Unmarried Fathers
" (with ).
Demography
47
, no.
1
(
2009
):
181-204
.
Examines the extent to which mothers' and fathers' repartnering and subsequent child bearing inhibit the frequency of contact between unmarried fathers and their nonresident children. Finds evidence of considerable gatekeeping by the mother when she repartners.
Making Ends Meet: How Low Income Single Mothers Survive Welfare and Low-Wage Employment
(with ) (
Russell Sage Foundation, 1997
).
Shows that while welfare recipients face a large gap between their incomes and expenditures, the budget gap of low wage workers is greater. Finds that welfare mothers survive by garnering contributions from networks and nonprofits, and by working under the table. Argues that mothers remain on welfare because they would have an even larger budget shortfall to fill, but less time each day to fill it.