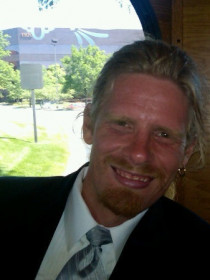 Brian
Peter
Tesch
PhD Candidate in Sociology, Mississippi State University
Chapter Fellow, Mississippi SSN
Connect with Brian
About Brian
Tesch's research focuses on the impact that domestic violence has on the LGBTQ community — specifically on the transgender community. He has conducted research on law enforcement's response to same-sex domestic violence, and what researchers know about transgender domestic abuse. He is currently working on a theoretical examination and understanding of how feminist theory, queer theory, and transgender theory can help to better understand transgender domestic abuse.
Overarching themes in Tesch's writing include examinations of the public policy implications of transgender domestic violence (especially in a difficult economy), possible mental health treatment related to LGBTQ domestic violence, and in-depth debates around feminist theory, queer theory, and transgender theory. He has also done prior work in making statistics more accessible to others (via a textbook).
Publications
"
Fears for Domestic Violence Services
"
The Psychologist
23
, no.
11
(
2010
):
868-869
.
Examines how domestic violence is being impacted by the economic recession and what they can do to continue to provide services.
"
Same-Sex Domestic Violence: Why Victims are More at Risk
" (with ).
International Journal of Police Science & Management
12
, no.
4
(
2010
):
526-535
.
Examines how police officers responded to incidents of domestic violence for gay and lesbian individuals. Finds that police officers often do not get special training in incidents of domestic abuse, and that their own experiences with violence may in fact have an impact on how they respond to domestic violence.
"
Best Practices in Shelter Provision with Transgender IPV Survivors
" in
Transgender Intimate Partner Violence: A Comprehensive Introduction
, edited by
Adam Messinger & Xavier Guadalupe-Diaz
(
New York University Press, forthcoming
).
Looks at the treatment modalities that currently exist in domestic violence social services, and how these services can be applicable to transgender victims of domestic abuse.
"
Violence in the Transgender Home
"
The Psychologist
24
, no.
11
(
2011
).
Examines how transgender domestic abuse is fundamentally different from other forms of LGBTQ domestic violence.
Nonparametric Statistics for Applied Research
(with ) (
Springer Science + Business Media Publishing, 2014
).
Allows students to understand how nonparametric statistics can be used for analytic purposes. Gives students the chance to see how these processes can be used in a real-world scenario.