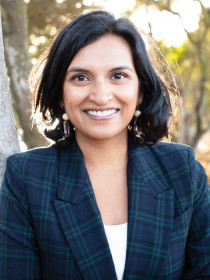 Anu
Manchikanti
Gómez
Associate Professor of Social Welfare and Director, Sexual Health and Reproductive Equity (SHARE) Program, University of California, Berkeley
Connect with Anu
About Anu
Gómez has worked as a health equity researcher with a focus on reproduction and sexuality throughout the life course. She has conducted research both in the U.S. and globally on diverse topics, including contraceptive use, abortion, HIV prevention, gender equity, transgender health and violence against women and children. Her current research focuses on three areas: (1) the measurement and meaning of pregnancy planning; (2) understanding contraceptive decision-making within social, relational and structural contexts; and (3) evaluating the impact of and evidence base for policies related to reproductive health. She also serves as a co-PI on SOLARS, a prospective, longitudinal cohort study funded by UCSF's Preterm Birth Initiative.
Contributions
No Jargon Podcast
Publications
"
Women or LARC First? Reproductive Autonomy and the Promotion of Long-Acting Reversible Contraceptive Methods
" (with ).
Perspectives on Sexual and Reproductive Health
46
, no.
3
(
2014
):
171-175
.
Argues that efforts to promote use of IUDs and implants, particularly among vulnerable women, must be contextualized within history and systems of inequity. Discusses how while we applaud increased access to these methods, we advocated for patient-centeredness in family planning care and programs, rather than one-size-fits-all approaches that privilege contraceptive effectiveness above all other needs.
"
Availability of Pharmacist-Prescribed Contraception in California, 2017
"
JAMA: The Journal of the American Medical Association
(
2017
).
Estimates the availability of pharmacist-furnished hormonal contraception in California one year after the release of the contraception protocol following the passage of Senate Bill 493. Results suggest that opt-in legislation such as SB 493 may face lengthy timelines for and limited levels of implementation.