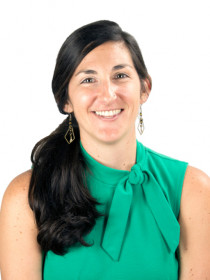 Christine
Prouty
Strong Coasts Program Coordinator, University of South Florida
Connect with Christine
About Christine
Prouty's research employs system dynamics (SD) modeling which is a computational technique where factors and dynamics are reflected by mathematical equations to simulate the behavior of a system over time. This kind of research makes a particularly unique contribution to the field of applied environmental engineering as it employs a mixed method, community-informed approach (i.e. surveys, interviews, and participatory observations, water quality analysis, and process-based mass balance analysis) to populate the SD models and evaluate their simulated behavior.
She uses these methods to perform interdisciplinary work that investigates the complex interactions between human, engineered, and environmental systems, the benefits of stakeholder involvement at all phases of the project's life cycle, the water-energy-food-systems nexus, the environmental impacts of tourist development, and the appropriate context into which environmental engineering technologies should be installed.
Christine's dissertation research and various academic activities have provided her the opportunity to work with communities, universities, utilities, and NGOs in Barbados, Belize, and Uganda.