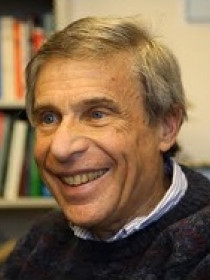 Jay
R.
Mandle
W. Bradford Wiley Professor of Economics, Emeritus, Colgate University
Connect with Jay
About Jay
Mandle is a founding member of Democracy Matters, a non-profit organization that organizes on college campuses to reduce the role of private money in politics.
Publications
Change Election to Change America: Democracy Matters Student Organizers in Action
(with ) (
Prospecta Press, 2014
).
Argues that wealthy donors to political campaigns may damage democracy; presents student activism that promotes public financing to political candidates at the local, state, and national levels as an alternative to the current system of big private contributions.
"
The Political Market
"
Journal of Economic Issues
47
, no.
1
(
2013
):
135-146
.
Describes the American political system as one that the elitist economist Joseph Schumpeter may approve of and argues that a more democratic system would require that the electoral system be treated as a public good.
Creating Political Equality: Elections as a Public Good
(
Academic Press, 2010
).
Poses a systematic argument in favor of the American electoral process; examines campaign finance reform and the plausibility of greater political equality if candidates have the option to finance campaigns with public funds.