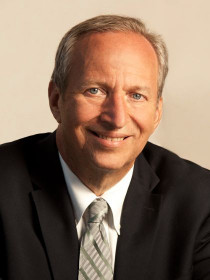 Lawrence
H.
Summers
Charles W. Eliot University Professor and President Emeritus, Harvard University
Connect with Lawrence
About Lawrence
Summers' research has made important contributions to many areas of economics, including public finance, labor economics, financial economics, macroeconomics, global economics, economic demography, economic history and development economics as well as global health and education. During the past two decades, Summers has served in a series of senior policy positions in Washington, DC, including the 71st Secretary of the Treasury for President Clinton, Director of the National Economic Council for President Obama and Vice President of Development Economics and Chief Economist of the World Bank. In his speeches, regular newspaper columns, and public commentary, Summers continues to move forward the debate on national and global economic policy.
Contributions
Publications
"
Fiscal Policy and Full Employment
," (with ),
Center on Budget and Policy Priorities
,
2014
.
Outlines and discusses the policy implications of three economic concepts: Keynes's view that the liquidity trap, or zero bound on short-term nominal interest rates, can sharply limit the efficacy of monetary stabilization policy; President Kennedy's "Economics 101" view of the desirability of fiscal stimulus during a slump; and the possibility that a prolonged episode of weak demand and high unemployment in an economy may have destructive consequences for aggregate supply.
"
Asiaphoria Meets Regression to the Mean
,"
National Bureau of Economic Research Working Paper No. 20573
,
October 2014
.
Discusses consensus forecasts for the global economy that predict, over the medium and long term, the world's economic gravity will substantially shift towards Asia and especially towards the Asian Giants, China and India. This analysis suggests that forecasters and planners looking at China would do well to contemplate a much wider range of outcomes than are typically considered.
"
Lower Equilibrium Real Rates, Financial Crisis, and Secular Stagnation,
" in
Across the Great Divide: New Perspectives on the Financial Crisis
, edited by
Martin Neil Baily and John B. Taylor
(
Hoover Institution Press, 2014
).
Discusses the secular stagnation hypothesis, arguing that the structure of the current economy is not capable of achieving satisfactory growth and stable financial simultaneously.
"
U.S. Economic Prospects: Secular Stagnation, Hysteresis, and the Zero Lower Bound
"
Business Economics
49
(
2014
):
65-73
.
Discusses how the nature of macroeconomics has changed dramatically in the last seven years. Argues that now, instead of being concerned with minor adjustments to stabilize about a given trend, concern is focused on avoiding secular stagnation. Analyzes macroeconomic problems and proposes solutions to put the U.S. economy back on a path toward healthy growth.
"
Fiscal Policy in a Depressed Economy
" (with ).
Brookings Papers on Economic Activity
(
2012
):
233-297
.
Examines fiscal policy in the context of an economy suffering from protracted high unemployment and output short of potential. Argues that although the conventional wisdom articulated by John Taylor (2000) rejecting discretionary fiscal policy is appropriate in normal times, such policy has a major role to play in a severe downturn in the aftermath of a financial crisis that carries interest rates down to the zero nominal lower bound.
North America's Lost Decade?: The Munk Debate on the Economy
(with ) (
House of Anansi, 2012
).
Debates the future of the North American economy. Discusses whether individual entrepreneurship, corporate innovation, and governments can create a new era of sustained economic growth. Examines whether the ongoing financial crisis, political dysfunction in the United States, and the rise of emerging nations erode living standards in North America for the long term.