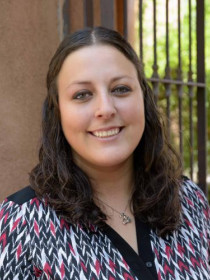 Milena
Melo
Assistant Professor of Anthropology, Mississippi State University
Connect with Milena
About Milena
Melo's research focuses on the experiences of undocumented Mexican immigrants accessing healthcare, specifically dialysis for end-stage renal disease caused by diabetes and hypertension. She has also been involved in research focusing on the experiences of mixed-status families and DACA in the U.S.-Mexico Borderlands. Overarching themes in Melo's research include immigration, citizenship, healthcare access, and the U.S.-Mexico Borderlands. Melo serves as a board member on the Human Rights and Social Justice committee of the Society for Applied Anthropology.
Publications
"
Unrequited Engagement: Misadventures in Advocating for Medicaid Expansion
" (with ).
American Anthropologist
120
, no.
3
(
2018
):
601-609
.
Details the authors' failed efforts at publishing a piece on the need for Medicaid expansion in a public health journal outlet. Explores how the discipline of anthropology can better achieve success when reaching non-anthropology audiences.
"
Risky Health Systems: Exclusion and Dialysis
" in
Unequal Coverage: The Experience of Health Care Reform in the United States
, edited by
Jessica Mulligan & Heide Castañeda
(
New York University Press, 2017
),
59-78
.
Examines those who have been completely excluded from the Affordable Care Act's coverage due to their citizenship and immigration status.
"
Enacting Life: Dialysis among Undocumented Mexican Immigrants in the U.S.-Mexico Borderlands
,"
ProQuest Dissertations Publishing
,
August 1, 2017
.
Examines the treatment experiences of undocumented Mexican immigrants who suffer from end-stage renal disease (ESRD) in South Texas. Employs dialysis as an extreme case study demonstrating the detrimental and fatal consequences that occur when access to care is restricted or denied based on citizenship and legal immigration status.
"
Who Has the Rights to Access Health Care and Why? Immigration, Incorporation, and Health Care Policy
" (with ), in
Mexican Migration to the United States: Perspectives from Both Sides of the Border
, edited by
Harriett Romo & Olivia Mogollon Lopez
(
University of Texas Press, 2016
),
159-183
.
Uses the contrasting case studies of unborn U.S. citizen babies of undocumented mothers and undocumented dialysis patients to analyze how the immigration and healthcare system dictates access to healthcare.
"
Health Care Access for Latino Mixed-Status Families: Barriers, Strategies, and Implications for Reform
" (with ).
American Behavioral Scientist
58
, no.
14
(
2014
):
1891-1909
.
Reports on health care seeking experiences of mixed-status families in the Lower Rio Grande Valley of South Texas and the impact of the recent health care reform (Affordable Care Act). Concludes that, for successful implementation of policies associated with health care reform, broader issues related to immigration status must be addressed, especially anxieties regarding future chances of regularization.