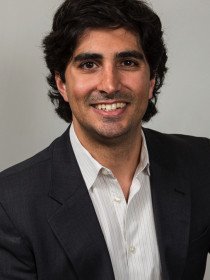 Paasha
Mahdavi
Assistant Professor of Political Science, University of California, Santa Barbara
Connect with Paasha
About Paasha
Mahdavi's research focuses on energy policy, the political economy of the petroleum industry, and the comparative politics of climate change. Overarching themes in Mahdavi's writings include the negative political consequences of fossil fuels, extractive resource nationalization, civic engagement and universal cash transfers (such as carbon dividends), fossil fuel subsidy reform, and the efficacy of policies to eliminate natural gas flaring. Mahdavi has consulted for natural resource think-tanks and governments of oil-producing countries in emerging markets. Mahdavi serves as non-resident fellow of the Initiative for Sustainable Energy Policy and of the Payne Institute, as a former fellow at the World Economic Forum, and as a Term Member at the Council on Foreign Relations.
Publications
Power Grab: Political Survival Through Extractive Resource Nationalization
(
Cambridge University Press, forthcoming
).
Examines how dictators maintain their grip on power by seizing control of oil, metals, and minerals production.
"
Capture the Flare
," (with ),
Georgetown University
,
forthcoming
.
Finds that the release of methane and carbon dioxide emissions at oil wells around the world makes an outsize contribution to global warming. Finds that most efforts to fix this problem so far have been largely ineffective. Recommends the development of remote sensing techniques for detecting point-source methane emissions.
"
Institutions and the "Resource Curse": Evidence from Cases of Oil-Related Bribery
"
Comparative Political Studies
(
2019
).
Finds that transnational bribery is most likely when state-owned enterprises, as opposed to government bureaucracies, regulate contracts. Examines evidence from cases of Foreign Corrupt Practices Act violations in the oil sector. Shows that the incentives for corruption are highest when regulatory agencies are politically independent, suggesting the need for reform in countries where national oil companies have regulatory authority.
"
Reforming National Oil Companies: Nine Recommendations
," (with ),
Natural Resources Governance Institute
,
July 10, 2014
.
Surveys 12 national oil companies (NOCs) from diverse geographical and operational contexts. Distills practical steps that policy-makers can take to make their countries' NOCs more effective and more accountable, both to governments and to citizens.