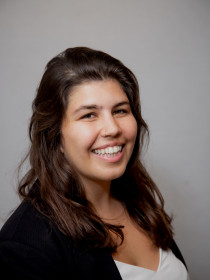 Danielle Mulligan
Director of Member Engagement
Connect with Danielle
Contact Danielle About
How to join the Scholars Strategy Network
Resources for engaging in policy and media
Opportunities to get involved as a member
About Danielle
As the Director of Member Engagement, Danielle is responsible for developing programming to support researchers across disciplines, jurisdictions, and policy issue areas, to leverage their research for policy impact. In her efforts to foster an engaged and thriving network of scholars across the country, Danielle offers training modules and one-on-one support related to engaging with policymakers, civic organizations, and the media. Since joining SSN in 2017, Danielle has also worked as a Policy Fellow and as the Associate Director of Chapters. 
Although a policy generalist, Danielle's particularly interested in the intersection of housing and educational policies. Some lines of inquiry in her own research have included assessing the impacts of public housing redevelopment projects on local public schools and evaluating how the Boston Public School choice assignment model affects school and neighborhood relations. Throughout her research, she has been committed to collaborating with policy stakeholders and advocacy organizations.
Danielle completed her master's degree from Tufts University in Urban and Environmental Policy and Planning in May of 2022. Her master's thesis was a Youth Participatory Action Research project that explored the ways young people perceive and respond to gentrification in East Boston. Danielle holds a BA from Tufts University in Community Systems and Social Innovation and served as a Rappoport Public Policy Fellow in 2019.