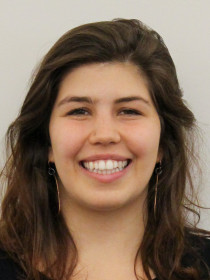 Danielle Mulligan
Associate Director of Chapters
Connect with Danielle
Contact Danielle About
- Building chapters for impact
- Medicaid policy
- Starting issue-specific policy groups
- Policy and media trainings for scholars
About Danielle
As the Associate Director of Chapters, Danielle assists in overseeing SSN's national network of 34 chapters. She works directly with chapter leaders to help them organize and train their local communities of scholars to share their research with local policymakers, civic leaders, and journalists.  Danielle has worked at SSN since November 2017, first on the Policy Team and now on the Chapters and Membership Team.
Danielle is particularly passionate about K-12 education and policies that fall under the broad umbrella of urban policy and planning. She also oversees a group of over 25 SSN scholars with expertise in Medicaid and administrative burdens who regularly contribute to public comments, amicus briefs, and provide expert testimony.
Danielle holds a BA from Tufts University in Community Systems and Social Innovation, served as a Rappoport Public Policy Fellow in 2019, and is writing her master's thesis at Tufts in Urban and Environmental Policy and Planning.