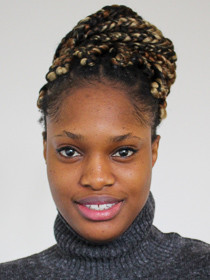 Lola Odesanya
National Event Planner & Office Manager
Connect with Lola
Contact Lola About
- SSN National Leadership Convening
- Event planning and logistics
About Lola
Lola joined SSN in 2018. She is responsible for the planning and coordination of SSN's events including, annual leadership meeting, national events, and chapter events.
Before this role, she served as a Conflict Research and Administrative Assistant at Mercy Corps, where she conducted literature reviews to identify gaps in research on drivers of violent extremism in the Middle East and North Africa.
Lola earned her Master's degree in Peace Studies and Conflict Resolution at the University of Massachusetts Lowell, and her B.S in Politics and International Relations at Lead City University, Nigeria. While in Nigeria, she worked with the Ministry of Rural Development to plan and coordinate events targeted for local governments in Lagos State to develop youth, security, and health awareness in rural communities.
Her academic interests include non-violent action, community development, human rights and development, social justice and equity. Lola is a volunteer at the Center for Hope and Healing, where she utilizes trauma-informed and empowering approaches to support rape survivors.