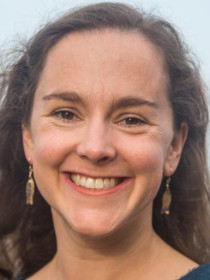 Abigail
Andrews
Assistant Professor of Sociology, University of California, San Diego
Connect with Abigail
About Abigail
Abigail Andrews's research focuses on globalization, migration, gender, and politics. In her recent work on Mexico-US migrant communities, Andrews uses ethnography to examine how city-level practices of immigration control work to silence undocumented communities, while shunting their activism back to the Mexican side. She also writes about gender, and about development and globalization in Latin America, with a particular interest in the power dynamics that permeate social movements and political institutions. Outside of the academy, Andrews is an advocate for migrants' political and labor rights, particularly in the domestic workers movement and the movement to end U.S. detention of undocumented immigrants.
Contributions
Publications
"
Downward Accountability in Unequal Alliances: Explaining NGO Responses to Zapatista Demands
"
World Development
54
(
2014
):
99-113
.
Examines how the Zapatista Movement was able to elicit "downward accountability" from its NGO supporters, pushing them to follow its agenda even as it depended on the NGOs for funds. Argues that social influence within an international social movement can help tie NGO legitimacy to downward accountability, despite imbalances of economic power.
"
The Quiet Insubordination of Staying Home: Rethinking Women who 'Stay Behind'
" in
Globalización y Migración/Inmigración: Políticas Migratorias y Desarrollo Social
, edited by
Moreno Mena
(
Universidad Autónoma de Baja California, 2013
).
Argues that women who live in migrant sending communities are not necessarily "left" behind but may elect to remain in their hometowns for the quality of life it offers, including autonomy as workers, time with their children, and tranquility, particularly when women have negative experiences as migrant workers.