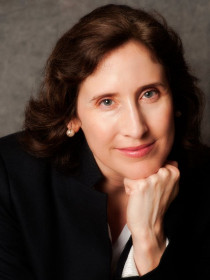 Anne-Marie
Nuñez
Professor of Educational Studies, Ohio State University-Main Campus
Connect with Anne-Marie
About Anne-Marie
Núñez's research focuses on expanding higher education opportunities for minoritized students. Overarching themes in Núñez's writings include the educational trajectories of Latinx, English Learner, and migrant students; the role of Hispanic-Serving Institutions (HSIs) in raising minoritized groups' educational and science attainment, and the development of inclusive organizational cultures in science. Núñez has served on National Academies of Sciences, Engineering, and Medicine (NASEM) and National Science Foundation committees to advance diversity, equity, and inclusion in science.
Contributions
Publications
"
The Organization of Learning in Geoscience Fieldwork and Implications for Inclusion
" (with ).
Journal of Women and Minorities in Science and Engineering
27
, no.
3
(
2021
).
Examines the organization of learning in geoscience fieldwork with implications for inclusion and exclusion of diverse learners. Involves 275 hours of observations and 32 interviews of participants at two separate undergraduate and graduate fieldwork courses in the western United States.
"
Centering Hispanic-Serving Institutions' Strategies To Develop Talent in Computing Fields
" (with ).
Tapuya: An International Journal of Latin American Science, Technology and Society.
4
, no.
1
(
2021
).
Examines how Hispanic-Serving Institutions (HSIs), federally designated institutions in the US that enroll at least 25% Hispanics, develop strategies to raise Hispanic attainment in computing fields. Explores the activities of HSIs in the Computing Alliance for Hispanic-Serving Institutions (CAHSI), a network of over 60 HSIs and other stakeholders that are committed to raising Hispanic attainment in postsecondary computing.
"
Hispanic-Serving Institutions: Advancing Research and Transformative Practice
" (with ).
The SAGE Encyclopedia of Higher Education
(
2020
):
758-761
.
Illustrates the institutional diversity of HSIs, the ways that HSIs address Hispanic student success, and the role of various resources in influencing HSIs' performance. Demonstrates that the HSIs' contributions must be considered within a broader political, social, and economic context that historically has limited their resources.
"
Applying an Intersectionality Lens To Expand Equity in The Geosciences
" (with ).
Journal of Geoscience Education
68
, no.
2
(
2019
).
Examines how intersectionality, a lens from the social sciences, can be employed conceptually and practically to broaden participation in geosciences, particularly among underrepresented groups such as women of color or others with multiple marginalized statuses. Outlines the key concepts constituting a lens of intersectionality and explain a specific model of intersectionality that incorporates multiple individual, cultural, and historical layers.
"
Mapping Hispanic-Serving Institutions: A Typology of Institutional Diversity
" (with ).
Journal of Higher Education
87
, no.
1
(
2016
):
55-83
.
Examines the distinctive structural, demographic, financial, and community context characteristics of HSIs. Provides a foundation for building a more institutionally relevant way of classifying HSIs and other Minority Serving Institutions (MSIs), which can inform future research about HSIs' organizational identities and effects on student outcomes.
"
Developing Work-Based Geosciences Learning Opportunities in a Hispanic-Serving Institution
" (with ).
Special Issue:Models and Bridges for Supporting Students at Minority‐Serving Institutions
2019
, no.
167
(
2019
):
85-99
.
Provides an overview of a funded National Science Foundation (NSF) grant program that incorporates learning and work in an effort to address racial/ethnic underrepresentation in the field of geosciences. Demonstrates the importance of engaging student affairs with academic affairs in such a program to address the diverse needs of students at HSIs.
"
Earning and Learning: Exploring the Meaning of Work in the Experiences of First-Generation Latino College Students
" (with ).
Review of Higher Education
40
, no.
1
(
2016
):
91-116
.
Examines how working influences students' college experiences, extending the predominantly quantitative research in this area. Findings based on interviews with Latino first-generation students who work reveal three themes. First, these students bring a familial orientation that motivates them to increase occupational status. Perceives that working helps them develop a sense of belonging on campus and important academic and social skills.
"
Higher Education: Handbook of Theory and Research
" (with ), in
English Learners and Their Transition to Postsecondary Education
(
Springer International Publishing Switzerland , 2016
),
41-90
.
Findings are that precollege and college academic experiences, financial considerations, sociocultural experiences, and cultural and linguistic assets influence EL students' transitions from high school to college
"
Closing the Latino/a Transfer Gap: Creating Pathways to the Baccalaureate
," (with ),
The Center for Research and Policy Education and University of Texas at San Antonio
,
2013
.
Provides an overview of the academic, financial, cultural, and social target areas, as well as broader policy issues, which must be addressed in order to promote Latino/a student transfer from community colleges to four-year higher education institutions.
Latinos in Higher Education and Hispanic-Serving Institutions: Creating Conditions for Success
(with ) (
Jossey-Bass, 2013
).
Presents a framework and strategies for promoting Hispanic student success that incorporate academic, financial, cultural, and social factors, as well as the importance of creating culturally responsive and supportive campus climates. Highlights how state and federal policymakers can contribute to strengthening Latino student success and the condition of HSIs.
"
Latino Students' College Transitions: A Social and Intercultural Capital Perspective
"
Harvard Educational Review
79
, no.
1
(
2009
):
22-48
.
Examines factors that contribute to a sense of belonging among Latino students entering college and presents evidence that Latino students who feel most alienated with their racial campus climate are also more likely to be involved in campus activities and community service. Suggests that in contrast to popular arguments that diversity activities like ethnic studies courses lead underrepresented minorities to disconnect from campus life, involvement in such activities help Latino students to feel a sense of belonging on campus and potentially contribute to their college persistence and degree attainment.