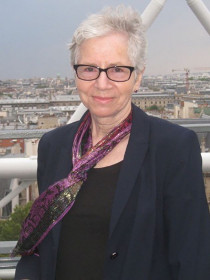 Christie
McDonald
Smith Research Professor of French Language and Literature and Research Professor of Comparative Literature, Harvard University
About Christie
McDonald's research focuses on 18th- and 20th-Century French literature and philosophy; literary theory and cultural studies; feminism; questions of change in thought; and the dialogue of literature and criticism with other disciplines.
Contributions
Publications
"
Women Writers of the Eighteenth Century
" in
Femmes. Une Histoire Culturelle
, edited by
Martine Reid
(
Gallimard, 2018
).
Examines how women began to enter the Republic of Letters as writers during the Old Regime in France, how they stepped at their peril into the public sphere: daring to know and to write involved a double jeopardy for them from which we can learn today: writing from within a hierarchy (as subjects, they were considered minors and later 'passive' citizens), women wrote in fiction and non-fiction about gender equality and freedom, ethics and the sins of history, education, science and truth, and women as humans with rights.
"
From From Rousseau to Occupy: Imagining a More Equal World
" in
Rousseau and Dignity: Art in the Service of Humanity
, edited by
Julia Douthwaite
(
Notre Dame University Press, 2017
),
132-155
.
Analyzes the history of Rousseau's thought on empathy and human rights (philosophy, literature, and anthropology).
Rousseau and Freedom
(edited with ) (
Cambridge University Press, 2010
).
Discusses how the problem of freedom is increasingly compromised and a subject for deep concern. Presents historical analysis of the relationship between freedom and equality with respect to humankind and to the citizen. Proposes several conceptions of liberty.
French Global A New Approach to Literary History
(edited with ) (
Columbia University Press, 2010
).
Analyzes literary history in the context of broad geographical and historical contexts rather than national borders; the global approach is defined as "the senese of a globe that is interconnected, of cultural difference within and beyond the nation;" reading the past as a way to read the present and to connect peoples of the world together in order to see through others' eyes. Exploration of the relationship between language (in this case French), literature, and culture, and the importance of the humanities in the 21st century.