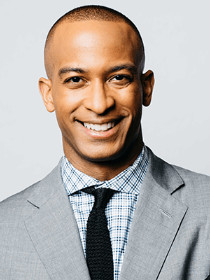 Dorian
T.
Warren
Fellow, Roosevelt Institute
President, Center for Community Change
Connect with Dorian
About Dorian
Warren specializes in the study of inequality and American politics. His research includes labor union organizing and politics, race and ethnic politics, urban politics and economic development, globalization and workers' rights, American political development, community organizing and social movements, economic elites' political influence, and social science methodology. Warren taught at University of Chicago and  Columbia University for over a decade, and has worked with several national and local organizations including the Leadership Conference on Civil and Human Rights, American Rights at Work, American Federation of Labor-Congress of Industrial Organizations, UNITE-HERE, Service Employees International Union, United Food and Commercial Workers' Union, Steelworkers, National Gay and Lesbian Task Force Policy Institute, and Jobs with Justice, among others. He currently serves on the boards of the Applied Research Center, Center for Community Change, the Model Alliance and the Discount Foundation. In addition, he has also testified before government entities including the Chicago and New York City Councils, and the National Labor Relations Board.
Contributions
Publications
"
Putting Families First: Good Jobs for All
,"
The Putting Families First Campaign
,
March 31, 2015
.
Provides a blueprint for how a strong government can combat economic inequality by creating more and better jobs, increasing wages, and dismantling structural gender and racial biases in the workplace.
"
The Empirical Case for Streamlining the NLRB Certification Process: The Role of Date of Unfair Labor Practice Occurrence
," (with ),
Columbia University, Institute for Social and Economic Research and Policy
,
May 31, 2011
.
Shows that despite the National Labor Relations Board's continued advocacy for reducing the time period between the filing of a petition to form a union and union certification elections, there have been virtually no elections in the first 20 days after a petition is filed, while in the past two years there has been a slight increase in the number of elections held within 21 to 30 days of the petition. The study demonstrates the relationship between the petition date, election date and when the most serious employer opposition and intimidation occurs and concludes that the NLRB should streamline the certification process to reduce the number of days between petition and election.
"
The Unsurprising Failure of Labor Law Reform and the Turn to Administrative Action
" in
Reaching For A New Deal: Ambitious Governance, Economic Meltdown, and Polarized Politics in Obama's First Two Years
, edited by
Theda Skocpol and Lawrence R. Jacobs
(
Russell Sage Foundation, 2011
),
191-229
.
Discusses the failure of labor reform in the early Obama administration, and highlights said failures' political effects.
"
The Politics and Practice of Economic Justice: Community Benefits Agreements as Tactic of the New Accountable Development Movement
" (with ).
Journal of Community Practice
17
, no.
1
(
2009
):
1-19
.
Elucidates key employment-related features of Community Benefits Agreements (legally binding agreements between a private developer and a coalition of community-based organizations in which community members pledge support for a development in return for benefits such as living wage jobs, local hiring, and affordable housing), and argues that the strongest Community Benefits Agreements result from organizing campaigns which utilize a range of political tactics including the dissensus organizing power of labor-community coalitions.
Race & American Political Development
(edited with ) (
Routledge, 2008
).
Collects essays that study the politics of race historically, institutionally, and discursively, and resituates race in American politics as an issue for sustained and broadened critical attention.
"
Race, Gender, and the Rebirth of Trade Unionism
" (with ).
New Labor Forum
16
, no.
3
(
2007
):
142-148
.
Makes the case that solidarity can, and must, be built among an ever-diversifying labor movement, nation, and world - the labor movement's very survival depends on it.