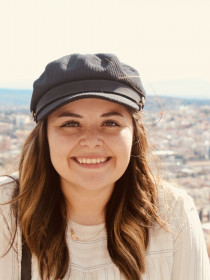 Ivón
Padilla-Rodríguez
PhD Candidate in History, Columbia University in the City of New York
Connect with Ivón
About Ivón
Padilla-Rodríguez is a socio-legal historian of Latinx child migration to and within the U.S. Padilla-Rodríguez's research bridges the scholarship on immigration and childhood to challenge adult-centric understandings about the evolving meaning of citizenship, access to the welfare state, and the consequences of draconian border enforcement. Padilla-Rodríguez's doctoral work has been supported by the Harry S. Truman Foundation, American Historical Association, American Society for Legal History, and the Immigration and Ethnic History Society, among others. Outside of academia, Padilla-Rodríguez has conducted research on child and family migration for the federal government, and national immigrants' rights non-profits in the U.S. and Mexico. Padilla-Rodríguez's work and experiences have been featured in Teen Vogue, Slack's "Work in Progress" podcast, the L.A. Review of Books, and Wayne State University's "Tales from the Reuther Library."
Publications
"
Sexual and Gender-Based Violence in El Salvador.
,"
Kids in Need of Defense
,
November 2019
.
Provides an overview of sexual and gender-based violence in El Salvador that displaces women, girls, and LGBTQ people internally and internationally.
The Country I Call Home: Stories of Growing Up a Citizen in Every Way But One
(edited with ) (
Latino Research Center Press, 2015
).
Showcases forty-one first-person essays of undocumented youth from various countries of origin.