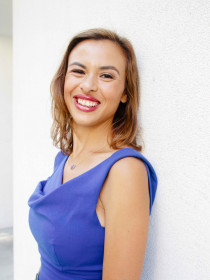 Jasmine
Mitchell
Assistant Professor, SUNY College at Old Westbury
Connect with Jasmine
About Jasmine
Mitchell's research focuses on mixed-race, gender, sexuality, and Blackness in the Americas with a focus on the United States and Brazil. Mitchell as a  race, gender, and media scholar, researches shifting racial formations and how racial mixture is deployed within popular media and public culture in the Americas. Mitchell's work addresses the role of media in constructing hemispheric racial ideologies. Mitchell's research questions how notions of racial mixing reflect, distort, and reimagine understandings of Blackness. Mitchell's continues to explore areas of popular culture which include film, telenovelas, television shows, global streaming media, magazines, music videos, and sports.
Contributions
Publications
"
Sensual Not Beautiful
"
ReVista
3
(
2017
).
Unpacks racial distinctions evident in beauty standards in Brazil, arguing that only critical examination of the politics of beauty, alongside movements toward black empowerment, can transform such destructive racial hierarchies
"
Netflix and Shifting Global Circulations of Race
"
Media Commons
(
2018
).
Explores how Netflix's growing dominance in Brazil "potentially ruptures racial hierarchies of hegemonic whiteness" promoted in the telenovelas produced for Brazil's domestic media monopoly, TV Globo.
Imagining the Mulatta
(
University of Illinois Press, 2020
).
Describes how Blackness in US and Brazilian Media demonstrates how mixed race women of African and European descent are harnessed in popular media as a tool to uphold white supremacy and discipline people of African descent to uphold state policies of antiblackness.
"
The Hope of Loving and Warping Racial Progress Narratives
"
Fordham Law Review
86
, no.
6
(
2018
).
Focuses on the Hope of Loving and Warping Racial Progress Narratives" critiques the contemporary uses of the Loving v. Virginia decision and the increase of interracial marriages as a solution to racism. Offers a much-needed examination, fifty years after the landmark Supreme Court case Loving v. Virginia, of the celebration of mixed-race marriage and individuals, in light of continuing racial discrimination and marginalization in the United States
"
Expressing Race in Brazilian Telenovelas
" in
Writing About Screen Media
, edited by
Lisa Patti
(
Routledge, 2019
),
248-250
.
Explains how expressing Race in Brazilian Telenovelas" in Writing About Screen Media is an accessible guide on how to write about race and Brazilian television for students and journalists. Explores how Brazilian telenovelas serve as a vital site for producing understandings of Brazilian identity in both national and global imaginations, and as such function to disseminate racial ideologies that privilege whiteness and negate racial inequalities.