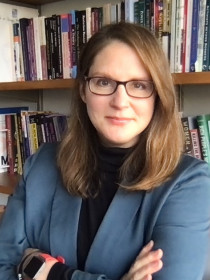 Jocelyn
Viterna
Professor of Sociology and Latin American Studies, Harvard University
Connect with Jocelyn
About Jocelyn
Viterna's research focuses on gender, politics, reproductive health, and the criminalization of abortion, especially in Central America. Viterna's current projects investigate (1) why right-wing political parties mobilize around themes of gender, sexuality, and reproduction; (2) how the criminalization of abortion transforms standards of "science" and "evidence" in the Salvadoran judicial system; (3) what happens to women and girls charged with pregnancy - related "crimes;" and (4) how the Salvadoran abortion ban affects the health of pregnant persons. Viterna also regularly provides Spanish-language trainings on how to recognize and avoid implicit gender biases in court proceedings.
Contributions
Publications
"
Towards Gender Equity in Development
" in
Towards Gender Equity in Development
, edited by
Siwan Anderson, Lori Beaman and Jean-Philippe Platteau
(
Oxford University Press, 2018
),
3-14
.
Mentions gender-based rights can sometimes--and suddenly--reverse. Uses the case of abortion criminalization in El Salvador, Viterna and colleagues argue that rights reversals may be more consequential for gendered bodies than are rights restrictions that have been on the books for decades.
Women in War The Micro-processes of Mobilization in El Salvador
.
Discusses when the 1992 peace accords were signed in El Salvador, fully 30% of the FMLN guerrilla army's demobilized forces identified as women. Predicts this militant participation would easily convert into strong new feminist identities, but the reality was more complex. Examines when and how gender was transformed through warfare in El Salvador, and who benefited from women's militant participation.
"
The Left and "Life" in El Salvador
"
Politics and Gender
8
, no.
2
(
2012
):
248-252
.
Asks the question: Does the rise of the Left promote women's equality? Or in contrast, could women's continued subordination be an important factor promoting the rise of the Left?