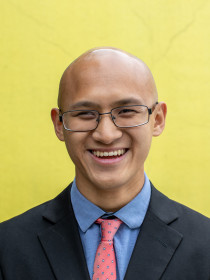 Kevin Lujan
Lujan
Lee
PhD Candidate in Urban Planning and Sociology, Massachusetts Institute of Technology
Connect with Kevin Lujan
About Kevin Lujan
Lee's research focuses on state-society relations in comparative perspective, particularly the institutional and organizational processes shaping the capacity of low-wage workers to transform their workplaces and communities. Overarching themes in Lee's writings include labor, immigration, economic development, Indigeneity and empire. He is the co-Principal Investigator of the 2021 Guåhan Survey (alongside Dr. Ngoc Phan, Hawai'i Pacific University), and his dissertation project explores how low-wage Pacific Islander workers raise industry labor standards in the 21st-century empires of United States and New Zealand.
Publications
"
#EndTransDetention: Building a Viable Abolitionism in Santa Ana, California
,"
2019
.
Notes that human service nonprofits and immigrant-led social movement organizations play an essential role in building a viable social movement centered on the abolition of immigration detention centers. Draws on the case study of #EndTransDetention in Santa Ana, California. Demonstrates that the failure to collaborate resulted in an ideological split that resulted in prolonged movement stagnancy, while their collaboration resulted in a series of local policy wins, including the successful abolition of the local LGBT immigrant detention center.
"
Healthcare Experiences of Transgender People of Color
" (with ).
Journal of General Internal Medicine
(
forthcoming
).
Notes that transgender patients of color have different experiences compared to their white transgender or cisgender racial/ethnic minority counterparts. Finds most respondents believed they would be treated better if they were cisgender or white. Finds they commonly cited providers' assumptions about TPOC as instrumental to negative healthcare experiences, and sought out healthcare locations designated as lesbian, gay, bisexual, and transgender (LGBT)-friendly in an effort to avoid discrimination, but feared experiencing racism there. Finds a minority of participants expressed a preference for providers of color; but a few reported reluctance to reveal their gender identity to providers of their own race due to fear of transphobia.
"
Creaming in the Age of Nonprofit Marketization and Labor Market Intermediaries: The Case of Los Angeles
,"
2019
.
Notes that traditional ideas of "creaming" propose that perverse performance metrics incentivize individual nonprofits to deliberately exclude disadvantaged clients with perceived lower chances for success in programs. Draws from qualitative interviews with workforce development nonprofit staff in Los Angeles. Shows that exclusion of the most marginalized occurs through "structural creaming," which increases the number and intensity of performance metrics, places more limits on amount and use of public funding, and intensifying paperwork requirements for nonprofits.