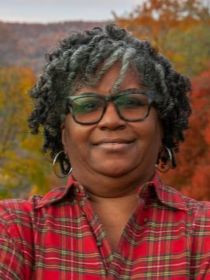 Lessie
Branch
Director of Programs Community Relations, Citizens Committee for New York City
Associate Dean, School for Business, Metropolitan College of New York
Connect with Lessie
About Lessie
Dr. Branch is a Racial Policy Scholar, Fulbright Specialist in Race, Ethnicity & Religion in Politics, Director Programs Community Relations at Citizens Committee for New York City & Director of The Think Tank at The Thinkubator. Her work examines the gulf between Black optimism about group progress and the actual data on continuing disparities, questions of social knowledge, social beliefs and relative group position through the transformative application of rhetorical criticism to interrogate narratives that structure social practices in ways that privilege some and marginalize others. She has a Ph.D. in Public Policy from The New School.
Contributions
Publications
Optimism at All Costs: Black Attitudes, Activism and Advancement in Obama's America
(
University of Massachusetts Press, 2018
).
Explains the paradox of Obama era black optimism despite continued black socioeconomic stagnation. Engages in clarification of an evolution from a "linked-fate" political discourse to a "post-racial/bootstrap" frame that focuses on individualism to achieve racial parity.