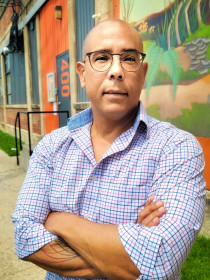 Maurice
Stevens
Professor of Comparative Studies, Ohio State University-Main Campus
Connect with Maurice
About Maurice
Stevens' research focuses on critical trauma theory, science and technology studies, performance theory, race and ethnic studies, liberation, community, and eco-psychology, and individual and community identity formation. Overarching themes in Stevens' work include examining how individuals and communities create and enact senses of self and liberative capacity in the aftermath and in the midst of overwhelming events. Stevens also works in collaboration with various community organizations in multiple capacities. Stevens offers coaching to individuals, community groups, and organizations seeking transformation and enlivening practice.
Contributions
No Jargon Podcast
Publications
Troubling Beginnings: Trans(per)forming African-American History and Identity
(
Routledge, 2003
).
This interdisciplinary and creative study examines how African American culture is presented in American films and other media, and is a provocative re-reading of the historiography of black culture. The author examines and interprets a number of cultural texts deriving memory as interpreted by Freud and by Franz Fanon, mixed with Black Liberation Theology and Islamic mysticism.
"
Understanding Core Critical Concepts: Experiential Explorations into the Contextualization of Knowledge Production
" in
Leadership Theory: A Facilitator's Guide for Cultivating Critical Perspectives
, edited by
John P. Dugan, Natasha T. Turman, and Amy C. Barnes
(
Jossey-Bass, 2017
),
55 - 67
.
This curriculum plan stresses the importance of understanding knowledge formation as a practice of making and not simply an activity of encouraging free-floating forms of knowledge waiting to be discovered "out there."