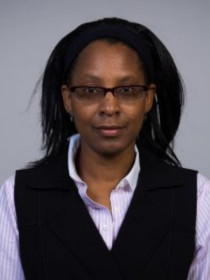 Ngina
Chiteji
Associate Professor of Economics, Wagner School of Public Service, New York University
Connect with Ngina
About Ngina
Chiteji focuses on issues such as the degree to which the distribution of wealth in the United States in unequal and the degree to which low levels of wealth can influence individuals' opportunities and quality of life. Other topics include ways that family resources can shape children's outcomes, including both parental and grandparents' resources, mass incarceration and criminal justice policies, macroeconomics and government budgets, the role of the state in society, and the moral foundations of public policies. Much of Chiteji's teaching also emphasizes how to help students and citizens think critically about economic topics. Chiteji's civic engagement includes work with both the National Academy of Social Insurance and the American Economic Association, as well as a membership at The Institute for Civility in Government. Professor Chiteji has also made contributions to the Congressional Budget Office.
Contributions
Publications
"
Strategies to Increase the Retirement Savings of African American Households
" (with ), in
Automatic: Changing the Way America Saves Lives
, edited by
William Gale, Mark Iwry, David John, and LIdia Walker
(
Brookings Institution Press, 2009
),
231-259
.
Examines the retirement savings of African-Americans relative to other US households as well as identifying strategies to boost said retirement funds.
"
Wealth in the Extended Family - An American Dilemma
"
Du Bois Review: Social Sciences Research on Race
7
, no.
2
(
2010
):
1-23
.
Argues that grandparents' wealth influences children's educational outcomes, just as parental wealth does, and claims that this fact raises questions about the degree to which the United States remains a nation in which individuals have equal opportunities to get ahead.
Wealth Accumulation and Communities of Color in the United States
(with ) (
University of Michigan Press, 2006
).
Analyzes the wealth levels of different racial and ethnic groups in the United States to provide statistical evidence regarding the degree to which wealth is unevenly distributed, as well as exploring what some of the implications of such inequities are.