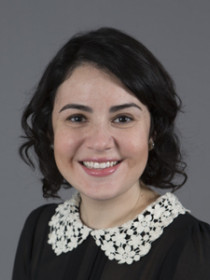 Sarah
Mayorga
Associate Professor of Sociology, Brandeis University
About Sarah
Mayorga's research focuses on race and ethnicity, urban and community sociology, and Latinx migration. Overarching themes in Mayorga's are racial inequity and how inequity is maintained in urban neighborhoods. Her work also speaks to issues of diversity, whiteness, and power more generally.
Contributions
Publications
"
The White-Centering Logic of Diversity Ideology
"
American Behavioral Scientist
(
2019
).
Argues that diversity ideology, the contemporary ways white residents discussed diversity, reinforces systemic whiteness. Explains that it is a framework that, at best, focuses on surface-level solutions. Finds that appreciating and desiring diversity has become a taste distinction for some whites, but not one that necessarily leads to political action or structural change.
"
Whose Best Friend? Dogs and Racial Boundary Maintenance in a Multiracial Neighborhood
"
Sociological Forum
33
, no.
2
(
2018
):
505-528
.
Argues that white residents of Creekridge Park used dogs as the basis for negotiating boundaries, their feelings of safety, and racial-ethnic differences, resulting in large social distance between racial groups and tighter bonds within these groups. Found that white residents discussed how dogs connected themselves and their neighbors, but these connections were often antagonistic when they included dog owners of color.
Behind the White Picket Fence: Power and Privilege in a Multiethnic Neighborhood
(
UNC Press, 2014
).
Demonstrates that in the area studied, spatial proximity (how closely different racial-ethnic groups live to each other) does not translate to racial equity. Problematizes common-sense thinking about racial inequality. Argues the need to consider power relations not just racial attitudes.