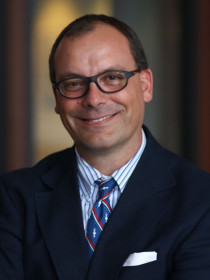 Sebastián
Royo
Professor of Government and Acting Provost for Student Success, Suffolk University
Connect with Sebastián
About Sebastián
Royo's research focusses primarily on European and Spanish politics, comparative political economy, and international relations. He is Acting Provost and Professor of Government at Suffolk University in Boston, where he teaches courses in Comparative Politics, Latin American and European Politics, and International Relations. He also served as the Associate Dean on the Suffolk College of Arts and Sciences, and is Director of the Suffolk University Madrid Campus. Royo is an affiliate at Harvard University's Center for European Studies (CES), where he co-chairs the Southern Europe Study Group. 
Contributions
In the News
Regular contributions
by Sebastián Royo to
Univision News New England
.
Publications
"
Institutional Degeneration and the Economic Crisis in Spain
" (with ).
American Behavioral Scientist
58
, no.
12
(
2014
):
1568-1591
.
Examines the impact of the process of institutional degeneration that took place in Spain in the decade prior to the crisis and analyzes its consequences. Argues that the crisis cannot be understood without accounting for that process of institutional degeneration.
"
Portugal's Revolution and the Limits of Convergence
"
Portugal: Forty Years After the Revolution. Special Issue of Portuguese Studies
34
, no.
1
(
forthcoming
).
Analyzes the impact of the Portuguese revolutionary transition to democracy on the country's economic policies and economic performance.
"
After Austerity: Lessons from the Spanish Experience
" (with ), in
Lessons from the Current Eurozone Crisis
(
Peter Lang, 2015
).
Outlines the main features of Spain's growth model and the challenges it faced. Describes the scale of the shock it underwent from 2008 onwards and analyses the treble crisis in the financial, fiscal and competitiveness spheres. Concludes with some lessons to be learnt from the Spanish experience.
"
Banks and the Political Economy of the Sovereign Debt Crisis in Italy and Spain
" (with ).
Review of International Political Economy
22
, no.
3
(
2015
):
485-507
.
Explains why Spain experienced a full-fledged sovereign debt crisis and had to resort to Euroarea financial assistance for its banks, whereas Italy did not. Argues that the distinctive features of bank business models and of national banking systems in Italy and Spain have considerable analytical leverage in explaining the different scenarios of the crises in each country.
"
Portugal in the European Union: The Limits of Convergence
"
South European Society & Politics
18
, no.
2
(
2013
):
197-216
.
Examines the integration experience of Portugal in the European Union in order to study how it has affected the country's fiscal policies in the decade prior to the global financial crisis, from 1999 to 2008. Focuses on three main variables to account for the difficulties that Portugal experienced in complying with the Stability and Growth Pact: institutions, ideas, and interests.