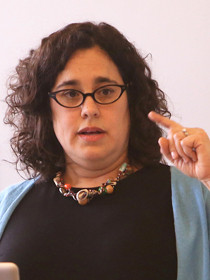 Stefanie
Chambers
Professor and Department Chair of Political Science, Trinity College
Connect with Stefanie
About Stefanie
Chambers' research and teaching focus on migration, mayoral leadership, urban education, and racial and ethnic politics, gender and politics and environmental justice. She has developed a personal teaching philosophy that emphasizes academic rigor, the development of critical thinking and writing skills, engagement with the Hartford community, and that places priority on issues of diversity. Beyond her scholarship, she is actively engaged in community service in Hartford.  She serves on the board of Achieve Hartford!, an educational advocacy organization in Hartford.  She was also Trinity's Director of the Hartford Magnet Trinity College Academy, a 6-12 public school in Hartford, from 2011 to 2014.
Contributions
Publications
Somalis in the Twin Cities and Columbus: Immigrant Incorporation in New Destinations
(
Temple University Press, 2017
).
Examines Somali political, economic, and social incorporation in the two US regions where Somalis are the most heavily concentrated, the Twin Cities of Minneapolis and St. Paul and Columbus, Ohio.
The Politics of New Immigrant Destinations: Transatlantic Perspectives
(with ) (
Temple University Press, 2017
).
Analyzes new immigrant destinations in the United States and Europe.
Mayors and Schools: Minority Voices and Democratic Tensions in Urban Education
(
Temple University Press, 2006
).
Analyzes the trend of mayoral control of school systems with an emphasis on the impact of this reform on communities of color.