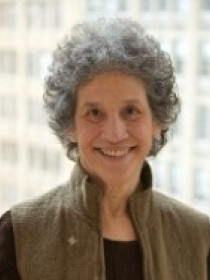 Wendy
Chavkin
Professor Emerita of Population and Family Health and Obstetrics-Gynecology, Columbia University in the City of New York
Connect with Wendy
About Wendy
Chavkin co-founded global Doctors for Choice. Her research has focused on work and pregnancy, maternal mortality, drug use by pregnant women, the health consequences of welfare reform and policy responses to declining birthrates and to conscientious objection.
Contributions
Publications
Globalized Fatherhood
(edited with ) (
Berghahn Books, 2014
).
Examines global fatherhood in the context of migration, work, reproduction, care, and the notion of family and explores the effects of the global economy and larger structural forces on the changing nature of fatherhood. The authors pay particular attention to how the changing roles of (and opportunities for) women across the globe have contributed to changes in fatherhood.
The Globalization of Motherhood: Deconstructions and Reconstructions of Biology
(edited with ) (
Routledge Press, 2010
).
Shows how dramatic declines in birth rates worldwide, the global movement of capital, people and information, and the rapid dissemination of a host of new medical technologies has led to the "globalization of motherhood". This book brings together research from the Global North and Global South to illuminate how contemporary motherhood is being changed by the processes of globalization and focuses on transnational adoption, transnational travel for assisted reproductive technologies, and transnational travel of migrant nannies to care for these sought-after children.
"
Moving Forward on Reproductive Health
" (with ).
New England Journal of Medicine
359
(
2008
):
1869-1871
.
Examines a cluster of reproductive health problems often neglected in political and public debate, such as elevated rates of pregnancy-associated deaths, infant deaths, low-birth-weight newborns and preterm births, adolescent pregnancies, sexually transmitted infections, and unintended pregnancies. Argues that reframing this cluster of issues in terms of public health might lead to real progress toward improving women's health.
Where Human Rights Begin: Essays on Health, Sexuality and Women, Ten Years After Vienna, Cairo and Beijing
(edited with ) (
Rutgers University Press, 2005
).
Addresses perceived tensions between development and reproductive rights and focuses on economic, social and political development in light of renewed concern about fertility and women's rights.