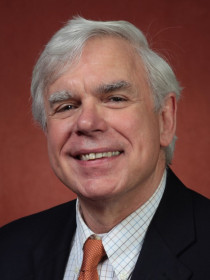 Larry
Polivka
Executive Director of the Claude Pepper Center, Florida State University
Scholar in Residence, The Claude Pepper Foundation
Connect with Larry
About Larry
Polivka's principal areas of expertise are long-term care policy and practice, retirement security from the perspective of income support and health care costs, the political economy of aging with a focus on the conflict between neoliberal (conservative) and neo-Keynesian economic theory and policy, health care policy and politics with a focus on Medicare and Medicaid and the role of corporate health care in publicly funded programs (including long-term care), and global aging from multiple interacting perspectives, including demographic, economic, political and cultural.
Publications
"
The Growing Neoliberal Threat to the Economic Security of Workers and Retirees
"
The Gerontologist
52
, no.
1
(
2012
):
331-344
.
Describes how changes in the political economies of the U.S. and other developed nations over the past 40 years have eroded the foundations of publicly funded retirement security systems and the kind of policy changes required to reverse this erosion.
"
Neoliberalism and the Postmodern Culture of Aging
"
Journal of Applied Gerontology
48
, no.
5
(
2011
):
564-572
.
Analyzes the implications of cultural neoliberalism and its emphasis on the creative, self-sufficient individual for the aging experience including impairment and increasing
"
Research and Regulation in Assisted Living: Achieving the Vision
" in
Frontline Workers in Assisted Living
, edited by
M. Ball, M. Perkins, C. Hollingsworth and C. Kemp
(
Johns Hopkins University Press, 2010
),
28-45
.
Reviews the assisted living research literature to propose a model of assisted living regulations that achieves an effective balance between resident safety and the quality of life goals embedded in the original vision for assisted living as an alternative to nursing home care.
"
The Aging Network and Managed Long-Term Care
" (with ).
The Gerontologist
48
, no.
5
(
2008
):
564-572
.
Discusses the merits of "aging networks" as an alternative to expensive institutional long-term care financed by Medicaid. These networks allow local non-profits and government agencies to work together to assess the needs of each older person, identify appropriate services such as home aides, and administer cost-effective community programs.
"
Medicare Privatization and the Erosion of Retirement Security
" (with ).
Journal of Aging & Social Policy
20
, no.
3
(
2008
):
340-352
.
Compares the relative cost performance of private insurance and the Medicare program, concluding that converting Medicare into a private insurance program would substantially increase out-of-pocket expenses for beneficiaries.