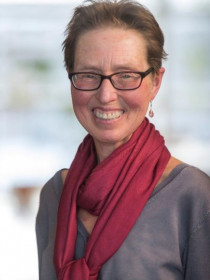 Sandra
Butler
Professor of Social Work and Director of the School of Social Work, University of Maine
Connect with Sandra
About Sandra
Butler has expertise in financial security programs (such as welfare), health and well being for LGBTQ+ older adults, and long term care workforce issues, especially home care workers. Overarching themes in Butler's writings include factors associated with financial insecurity across the lifespan, the importance of supporting low wage direct care workers, and issues related to successful aging for older LGBTQ+ individuals. Butler has worked closely with the non profit Maine Equal Justice over her 30 year career in Maine and she currently sits on the advisory board of Maine Center for Economic Policy.
Publications
"
Older Women Taking Care of Older Women: The Rewards and Challenges of the Home Care Aide Job
" (with ).
Journal of Women & Aging
24
, no.
3
(
2012
):
194-215
.
This article looks at the job experiences of home care workers with a particular focus on older women, who are frequently the carers of elder frail women.
"
Why Do They Leave? Factors Associated with Job Termination among Personal Assistant Workers in Home Care
" (with ).
Journal of Gerontological Social Work
57
, no.
8
(
2010
):
665-681
.
Explores factors related to turnover among home care workers – a group of workers who are very low paid, but essential to our long-term care system.
"
Gay, Lesbian, Bisexual and Transgender (GLBT) Elders: The Challenges and Resilience of This Marginalized Group
"
Journal of Human Behavior in the Social Environment
9
, no.
4
(
2009
):
25-44
.
Discusses the invisibility of the elder gay, lesbian, bisexual and transgender population and the consequences of a marginalized status in terms of poor health and reduced health service access.
"
Something Worth Fighting for: Higher Education for Women on Welfare
" (with ).
Affilia: Journal of Women & Social Work
17
, no.
1
(
2002
):
30-54
.
Describes the positive experiences of participants of a state program (Parents as Scholars) in Maine which allows women on welfare to pursue higher education.
"
Working in Coalition: Advocates and Academics Join Together to Promote Progressive Welfare Policies
" (with ).
Journal of Community Practice
7
, no.
4
(
2000
):
1-20
.
Describes a successful coalition of advocates and scholars in defeating punitive welfare policies at state the state level after passage of the Personal Responsibility and Work Opportunity Reconciliation Act.
"
Pathways to Homelessness among Middle-Aged Women
" (with ).
Women & Politics
15
, no.
3
(
1995
):
1-22
.
Reports on a qualitative study of eleven middle-aged home women, discussing the circumstances that led to their homelessness and how public policies fail to protect women from impoverishment after common life events.