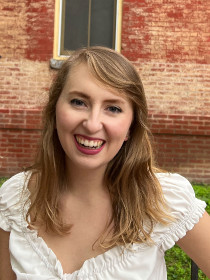 Olivia Brochu
Policy Associate
Connect with Olivia
Contact Olivia About
Connecting policy stakeholders and scholars

Developing policy briefs, memos, and other materials
About Olivia
Olivia joined the policy team at SSN as the Policy Associate in October of 2022, several years after working as SSN's Policy Intern while in college. As the Policy Associate, she is the team's generalist and is responsible for connecting a broad range of scholars and their research to civic organizations and policy makers at the local, state, and federal levels across the United States.
Prior to this role, Olivia worked on campaigns electing Democrats in six states across the country, starting in New Hampshire on the presidential campaign of Senator Elizabeth Warren. In the 2020 general election Olivia worked as the Campus Regional Field Director for the Michigan Democratic party and ran the state's youth vote program. After the general election, Olivia headed to Georgia as a Regional Field Director and oversaw direct voter contact in Cobb County for the 2021 Senate runoffs. Most recently, Olivia worked in the D.C. office of Oregon Senator Ron Wyden as his Deputy Scheduler.
Before her time on campaigns, Olivia was a lifelong Massachusetts resident, graduating from Hampshire College in 2019 with her Senior Thesis, White Women for Trump: Rethinking Liberal Understandings of Women's Self-Interests. She currently lives in Washington D.C. with her two cats and enjoys seeing live music and jogging on the National Mall.