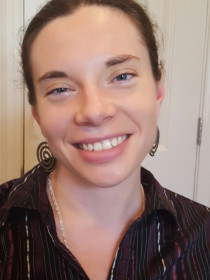 Jessica
L.
Liddell
PhD Candidate in Social Work, Tulane University
Chapter Fellow, New Orleans SSN
Connect with Jessica
About Jessica
Liddell's research focuses on reproductive justice topics among women in the United States. Her research interests include making health services more responsive to community needs and input, in addition to general interests in sexual and reproductive health, reproductive justice, and harm reduction service models. Liddell's dissertation research explores reproductive justice topics among Native American tribes in the Southeastern region of the United States. Overarching themes in Liddell's writing include improving healthcare access for Native Americans, increasing the use of Reproductive Justice frameworks in Social Work practice and research, exploring relationships between healthcare providers and patients, and investigating the role of gender following disasters. Liddell is influenced by her interdisciplinary background and frequently seeks out projects where she works with a diverse range of collaborators. Liddell previously worked as an intern with USAID in Addis Ababa, Ethiopia, with the Population Council in Mexico City, Mexico and for NOAIDS Task Force in New Orleans providing HIV-related services and assisting with their needle exchange program.