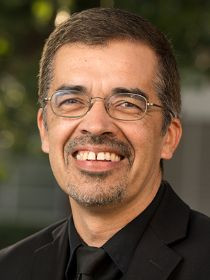 Alvaro
Huerta
Associate Professor (Joint Faculty) of the Urban & Regional Planning, and Ethnic & Women's Studies Departments, California State Polytechnic University, Pomona
Connect with Alvaro
About Alvaro
Huerta's research focuses on the intersecting domains of community & economic development, Chicana/o & Latina/o studies, immigration & Mexican diaspora, social movements, social networks, and the informal economy. Overarching themes in Huerta's writings include public policy, (re)framing and racial/class (in)equality. Huerta serves in many capacities regarding civic engagement activities, from being a public intellectual to working directly with grassroots groups.
Contributions
Publications
"
Looking Beyond "Mow, Blow, and Go": A Case Study of Mexican Immigrant Gardeners in Los Angeles
"
Berkeley Planning Journal
20
(
2007
):
1-23
.
Seeks to provide a more holistic picture of the dynamic workforce of paid gardeners. Documents how this industry operates and its social organization. Demonstrates how a select group of self-employed, Mexican gardeners function as petty-entrepreneurs, benefiting in the informal economy by successfully utilizing their social capital.
People of Color in the United States: Contemporary Issues in Education, Work, Communities, Health, and Immigration
(edited with ) (
ABC-CLIO, 2016
).
Examines a wide range of issues that affect people of color in America today, covering education, employment, health, and immigration. Enables students to better understand the experiences of of racial and ethnic minorities as well as current social issues and policy.
Reframing the Latino Immigration Debate: Towards a Humanistic Paradigm
(
San Diego University Press, 2013
).
Asks readers to reassess critical political and cultural issues unfolding along the U.S./Mexico border. Provides a ground-up view of the most pressing issues facing a nation of immigrants.