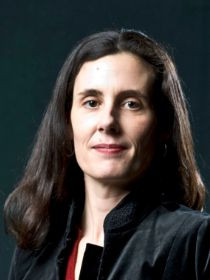 Alyshia
Gálvez
Associate Professor of Latin American, Latino and Puerto Rican Studies, City University of New York
Connect with Alyshia
About Alyshia
Gálvez's research focuses on immigration, Mexico, public health and reproductive health. She is especially interested in the efforts of immigrants to achieve the rights of citizenship and belonging and the ways that U.S. institutions work to welcome or to discourage such efforts. Founder of the Mexican Studies Institute at the City University of New York—first on the East Coast— and founder of a faculty network to support undocumented students, Gálvez is an advocate for immigrant students and their families. As a public intellectual, she strives to bring people-centered, inquiry-based and inductive research methods to the public sphere.
Contributions
No Jargon Podcast
Publications
Eating NAFTA: Trade and Food Policies and the Destruction of Mexico
(
University of California Press, forthcoming, 2018
).
Examines the public health consequences of the North American Free Trade Agreement, noting the ways that US and Mexican social and economic policy have produced an epidemic of diet-related illness, even while the most marginalized members of society disproportionately affected by chronic disease bear the blame.
"
Immigrant Citizenship: Neoliberalism, Immobility and the Vernacular Meanings of Citizenship
", edited by
Ulla Berg and Robyn Rodriguez
(
Routledge Press, 2014
).
Argues that rather than a stable, static system for assigning rights and responsibilities, citizenship in the United States changes with the times, expanding and contracting with sentiments about racialized minorities and immigrants.
"
The Original Dreamers
"
American Anthropologist
116
, no.
1
(
2014
):
1-14
.
Traces the relationship between immigrant activism in the late 1990s and early 2000s to the undocumented youth movement two decades later, showing that youth were inspired by their parents' generation to come out as undocumented, unafraid and unapologetic.
Patient Mothers, Patient Citizens: Mexican Women, Public Prenatal Care, and the Birth-weight Paradox
(
Rutgers University Press, 2009
).
Examines the experiences of Mexican immigrant women in New York City's public prenatal care system and finds that their healthful approach to pregnancy is challenged by care that overlooks their knowledge and echoes xenophobic discourses from the broader society.
Guadalupe in New York: Devotion and the Struggle for Citizenship Rights among Mexican Immigrants
(
New York University Press, 2009
).
Explores the ways that Mexican immigrants in New York strive for the rights and respect of citizenship through involvement in religious organizations and Catholic ritual activities.