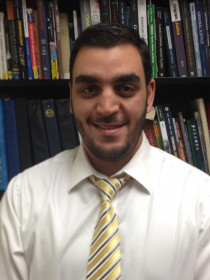 Amin
Asfari
Associate Professor of Criminal Justice, Wake Technical Community College
Connect with Amin
About Amin
Asfari is an interdisciplinary scholar.  Asfari's areas of expertise are in public policy, criminal justice reform, prejudice and race, with an emphasis on Islamophobia.  Asfari's ongoing scholarship seeks to understand the construction of Muslims as the "other," and to identify the public policies that foster and legitimize this label. Asfari is working to develop an integrated theoretical model that explains the processes "othering" which draws from various disciplines and methodological approaches to fine-tune our understanding of Islamophobia.  Asfari's research contributes to the empirical understanding of American Muslims, a historically understudied group.  Asfari's, work specifically seeks to inform the criminological and sociological discourse by engaging with this community through empirically sound and culturally sensitive ways.
Publications
"
Elders and Brothers
" (with ), in
Conspiracy Theories and Philosophy
(
Open Court Publishing Company, 2020
).
Describes and explores the conspiracist antecedent conditions which promote violence against and exclusion of both Jews and Muslims in America.
Civility, Nonviolent Resistance, and the New Struggle for Social Justice
(
Brill, 2020
).
Explores causes of injustice and violence, and meaningful ways to address them in civilized, non-violent ways.