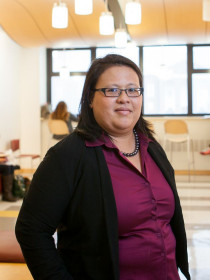 Anna
On Ya
Law
Herbert Kurz Chair of Constitutional Rights and Associate Professor of Political Science, Brooklyn College, City University of New York
About Anna
Law's research focuses on the interaction between law, legal institutions, and politics. Her substantive areas of expertise are in U.S. immigration and constitutional law, policy, and history. As part of the Kurz Chair duties, Law creates public programming for the Brooklyn College and broader community to educate about the limits and possibilities of the U.S. Constitution in protecting the rights of politically unpopular minority groups. Law is a former Program Analyst of the bipartisan, blue-ribbon, congressional United States Immigration Reform of the mid-1990s that was charged with making policy recommendations to the White House.
Contributions
No Jargon Podcast
Publications
"
The Historical Amnesia of American Immigration Federalism
"
Polity
47
, no.
3
(
2015
):
302-319
.
Walks through the 1787 Constitution to find that the framers did not grant clear authorization for a national immigration power except for the naturalization clause, which pertains only to one narrow part of immigration policy.
The Immigration Battle in American Courts
(
Cambridge University Press, 2010
).
Examines the role of the Supreme Court and U.S. Courts of Appeals in immigration policy making in the United States, while also advancing scholarly understanding about the distinct and evolving missions and functions of the two highest federal appellate courts, the U.S. Courts of Appeals, and the Supreme Court.