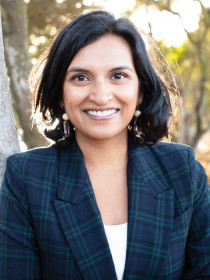 Anu Manchikanti
Gómez
Associate Professor of Social Welfare, University of California-Berkeley
Connect with Anu Manchikanti
About Anu Manchikanti
Gomez's research focus on social and structural determinants of reproductive self-determination, including a focus on contraceptive access and birth equity. Gomez's community-centered research seeks to foreground the perspectives of under-resourced communities. Her current projects include a national study to develop person-centered metrics of contraceptive access, evaluation of a community doula program in San Francisco, and evaluation of the Abundant Birth Project, the first unconditional income supplement program for pregnant people in the US. Gomez currently serves on the Board of Directors of Ibis Reproductive Health.
Contributions
No Jargon Podcast
Publications
"
Women or LARC First? Reproductive Autonomy and the Promotion of Long-Acting Reversible Contraceptive Methods
" (with ).
Perspectives on Sexual and Reproductive Health
46
, no.
3
(
2014
):
171-175
.
Argues that efforts to promote use of IUDs and implants, particularly among vulnerable women, must be contextualized within history and systems of inequity. Discusses how while we applaud increased access to these methods, we advocated for patient-centeredness in family planning care and programs, rather than one-size-fits-all approaches that privilege contraceptive effectiveness above all other needs.
"
Availability of Pharmacist-Prescribed Contraception in California, 2017
"
JAMA: The Journal of the American Medical Association
(
2017
).
Estimates the availability of pharmacist-furnished hormonal contraception in California one year after the release of the contraception protocol following the passage of Senate Bill 493. Results suggest that opt-in legislation such as SB 493 may face lengthy timelines for and limited levels of implementation.