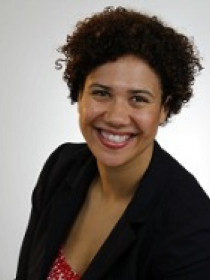 Ashley
M.
Howard
Assistant Professor of African American History, University of Iowa
Connect with Ashley
About Ashley
Howard's research examines the interplay between violence and resistance in black America. Specifically her book manuscript (in progress) analyzes the 1960s urban rebellions in the Midwest, grounded in the way race, class, gender, and region played critical and overlapping roles in defining resistance to racialized oppression. Her research agenda is driven by the desire to provide historical perspectives on salient issues in the black community today, including the growing prison industrial complex and resurgence of anti-black violence. She serves as Book Review Editor for The Black Scholar.
Contributions
No Jargon Podcast
Publications
"
Then the Burnings Began: Omaha's 1966 Revolt and the Efficacy of Political Violence
"
Nebraska History
98
, no.
2
(
2017
):
82-97
.
Argues that violent protest does not occur in a vacuum. Historically, it has been the purview of the most desperate, the most oppressed, those with little to lose and even fewer options for recompense. Urban rebellions, both in the contemporary moment and in the 1960s, are a continuation of previous protests through extralegal channels.
"
Linked Fates: Social Media as a Framing, Tactical and Witnessing Tool in the Black Lives Matter Movement
" in
News of Baltimore: Race, Rage, and the City eds
, edited by
Linda Steiner and Silvio Waisboard
(
Routledge Press, 2017
),
120-139
.
Examines how the media approached long-standing and long-simmering issues of race, class, violence, and social responsibility in Baltimore during the demonstrations, violence, and public debate in the spring of 2015