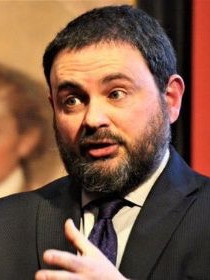 Ben
Railton
Professor of English Studies and Coordinator of American Studies, Fitchburg State University
About Ben
Railton is author of six books on American identity, national narratives, and collective memory, most recently Of Thee I Sing: The Contested History of American Patriotism (2021). He writes the daily American Studier blog, contributes the bimonthly Considering History column for the Saturday Evening Post, and is a frequent public scholarly tweeter @AmericanStudier.
Contributions
No Jargon Podcast
Publications
We the People: The 500-Year Battle Over Who Is American
(
Rowman & Littlefield, 2019
).
Analyzes inclusive and exclusive visions of who gets to be considered American, from the beginning of European settlement until today.
"
Side by Side: Locating Dissenting Voices in New England Public Spaces
,"
American Studies Association Conference
,
October 31, 2013
.
Uses Plymoth Plantation and the Salem Witch Trials Memorial to argue for how public spaces can become vital tools through which Americans learn about our multi-layered histories.
"
The Even Bigger Read: Making American Literature National
,"
Northeast Modern Language Association Conference
,
February 28, 2013
.
Argues for works that all Americans should read, to help us engage collectively with our identity and community, in conjunction with the in-development American Writers Museum.
The Chinese Exclusion Act: What It Can Teach Us about America
(
Palgrave Macmillan Pivot, 2013
).
Highlights three lessons we can learn if we better remember the 1882 Chinese Exclusion Act and its contexts: a lesson about the history of immigration laws; one about diversity in America; and one about inspiring stories and identities. Each lesson has vital applications to our present debates and community.
Redefining American Identity: From Cabeza de Vaca to Barack Obama
(
Palgrave Macmillan, 2011
).
Argues for a new definition of American identity: a vision of cross-cultural transformation, of encounters and conversations between different cultures and communities and of the changes and new identities that they produce, as an experience that has been fundamental to America since its origin points and from which we are all descended in this 21st century moment.