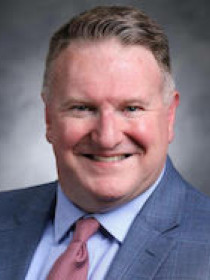 Chapman
Rackaway
Professor of Political Science, University of West Georgia
Connect with Chapman
About Chapman
Rackaway's research focuses on different elements of the campaign environment. He has produced scholarship on the planning phase and use of technological tools by political campaigns at the state level. Regarding voting, he has analyzed data on voter turnout changes in states with photo ID and proof-of-citizenship voting laws and has discovered a troubling drop in voter turnout under these laws, particularly in counties with higher poverty rates.
Contributions
Chapman Rackaway

Michael A. Smith
Publications
"
Democratizing Information: Web 2.0 Tools in Civic Engagement,
" (with ), in
Civic Engagement for Southern Universities
, edited by
Michael Rogers and Donald M. Gooch
(
Lexington Press, forthcoming
).
Discusses the example of Fort Hays State University, which has been a significant leader of civic engagement for many years. There is no shortage of civic leadership both in and out of the classrooms, and technological advancements have led to an increase in Web 2.0. Both students and instructors take advantage of media tools on a daily basis in an effort to become better informed civic leaders or engagement, and this article shows how the university has implemented a social media and online communication tool strategy to build civic learning and engagement among students.
State Voting Laws in America: Historical Statutes and Their Modern Implications
(with ) (
Palgrave Macmillan, 2014
).
Examines state voting laws throughout U.S. history and their impact on voter turnout; discusses contemporary challenges to the voting process including laws complicating voter registration, photo ID and birth certificate requirements, limits on early voting, and restoration of voting rights after a felony conviction.
Communicating Politics Online
(
Palgrave Macmillan, 2014
).
Examines how the shift to an online world has drastically changed political communication; argues that technology has disrupted political communication by making the speed of messages faster, creating a social environment that allows for mobile creation and consumption of content by discussing producers of news and the consumers receiving it, how campaigns communicate with voters and how elected officials connect with constituents; also shows how every actor involved in the political world, from the President to the everyday voter, has to rethink the process and strategy of political communication.
"
Soccer Moms, Hockey Moms, and National Security Moms: Reality versus Fiction in the Female Voter,
" in
Women and the White House
, edited by
Lilly Goren and Justin Vaughn
(
University of Kentucky Press, 2012
).
Examines the gap that exists between men and women in political participation; argues that this so-called gender gap, the difference in percentage of women and men who support a particular candidate or party, is largely a reflection of gender role differences and how American politics explores and magnifies gender differences.
"
The 5P Rule,
" in
Inside Political Campaigns: Chronicles – and Lessons – from the Trenches
, edited by
James Bowers and Steven Daniels
(
Lynne Rienner Publishers, 2009
).
Draws on the experiences of political scientists who have played such key roles as campaign managers, consultants, media advisers, and even candidates; offers first-hand accounts of races run at the local, state, and national levels reveal the many complex facets of the modern electoral process; highlighting lessons learned and provides a unique introduction to both the study and the execution of political campaigns.