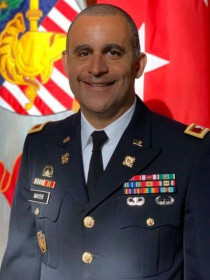 Chris
Mayer
Associate Dean for Strategy, Policy, and Assessment; Associate Professor of Philosophy, United States Military Academy at West Point
About Chris
Mayer's research and teaching expertise focuses on  military ethics, higher education, and political philosophy. He is particularly interested in the ethics of using technology (e.g. nonlethal, cyber, and autonomous) for military purposes; higher education access, success, quality, and accreditation; and inequality and diminished opportunity in society. He is a career Army officer. 
Contributions
In the News
Chris Mayer
's research on
ethics, technology and war
discussed by
"Military Ethics: An Introduction,"
an online course taught by Deanne-Peter Baker
,
February 6, 2017
.
Publications
"
Developing Autonomous Systems in an Ethical Manner
" in
Autonomous Systems: Issues for Defence Policy Makers
, edited by
Andrew P. Williams and Paul D. Share
(
NATO Communications and Information Agency, 2015
),
65-82
.
Highlights ethical considerations related to the development and use of autonomous systems for military purposes.
"
Oversight is the Continuation of Democracy by Other Means
" (with ).
Global Organization of Parliamentarians Against Corruption Position Paper
1
, no.
6
(
2015
):
1-4
.
Provides recommendations for parliamentarians on balancing their responsibility for demanding accountability from public institutions with the need for a degree of secrecy in the defense and security sectors.
"
Minimizing Harm to Combatants: Nonlethal Weapons, Combatants' Rights, and State Responsibility
" in
Routledge Handbook of Ethics and War: Just War Theory in the Twenty-First Century
, edited by
Fritz Allhoff, Nicholas G. Evans, and Adam Henschke
(
Routledge, 2013
),
301-311
.
Considers whether combatants and states have an obligation to use nonlethal weapons that allow the same level of mission accomplishment while reducing harm to enemy combatants.