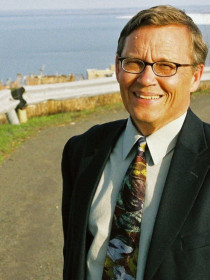 Dane
Smith
President, Growth & Justice
Connect with Dane
About Dane
As a newspaper journalist for 30 years before heading Growth & Justice, Smith covered politics and policy at the local, state and federal levels, writing more than 4,000 bylined articles. Notable contributions include an award-winning Star Tribune series in 1987, "Spending Big," about the growth of state and local government in Minnesota, and "The Good that Government Does," a three-part "News With a View'' series in 1994 that explained the unappreciated value of federal, state and local government to the nation and Minnesota. Since 2007, his work at Growth & Justice focuses on fair taxation and smart public investment. Smith has held two adjunct teaching positions, one at Inver Hills Community College, and one at the University of Minnesota-Duluth's Masters in Advocacy and Political Leadership program. He is former chairman and current member of the Inver Hills Community College Alumni Board. In 2007 and 2008, he served on a citizens advisory panel to revise the state's discipline policy for judges. Smith also recently served on an Education Finance Working Group to recommend overhaul of state funding formulas. As President of Growth & Justice, he participates in numerous advisory panels and strategic partnerships and advocacy teams. Smith also tutors students in reading at Horace Mann Elementary School in St. Paul's Highland Park neighborhood, and is active in various organizations which support the St. Paul Public Schools.
Contributions
Publications
"
Inseparable Imperatives: Workforce Equity for a Competitive Economy
," (with ),
Preview and overview of series of "Workforce Equity'' policy briefs showing how Minnesota can reduce racial inequities in job market
,
Growth & Justice
,
Spring 2013
.
This paper, Inspeparable Imperatives, is the first in a series of four designed to help Minnesota policy-makers reduce racial inequality in employment, which poses a threat to the state's long-term competitiveness. Charts and data showing the severity of the unemployment gap in the Twin Cities, workforce demand and racial composition of qualified workers in specific sectors. Spotlight boxes show targets of opportunity, such as the new Minnesota Vikings stadium, and promising new efforts, such as the "M-Powered'' program.
"
Beyond the Affordable Care Act: An Economic Analysis of a Unified System of Health Care for Minnesota
," (with ),
Econometric analysis in partnership with The Lewin Group of costs and benefits of a publicly financed "unified and universal'' health-care system for Minnesota (also known as "single-payer")
,
Growth & Justice
,
February 29, 2012
.
Minnesota could reduce it's total health-care spending by individuals and businesses by 9 percent (compared to full implementation of the Affordable Care Act) if it established a taxpayer financed universal health-care system with a top-shelf benefit set.
"
Whole Towns Coming Together for All Students
,"
Growth & Justice Policy Education Report
,
December 31, 2011
.
Describes progress being made through community engagement initiatives toward improving student success and closing achievement and attainment gaps in an increasingly diverse Greater Minnesota. Highlights some promising specific efforts happening across the state in rural towns and cities outside the Twin Cities metropolitan area.
"
Governing with Accountability
,"
Growth & Justice Policy Report
,
February 28, 2009
.
Provides overview of classic principles that underlie effective and accountable state and local government in Minnesota, and reviews challenges and promising initiatives aimed at redesigning the public sector.
"
Smart Investments in Minnesota's Students
," (with ),
Growth & Justice Policy Report
,
September 30, 2008
.
Outlines evidence-based strategic investments aimed at dramatically increasing post-secondary graduation in Minnesota, and reducing achievement and attainment gaps.
Professor Wellstone Goes to Washington: The Inside Story of a Grassroots Senate Campaign
(with ) (
University of Minnesota Press, 2003
).
Tells the story of the late U.S. Sen. Paul Wellstone's populist progressive campaign in 1990 and his stunning upset victory over incumbent Republican Rudy Boschwitz in 1990.