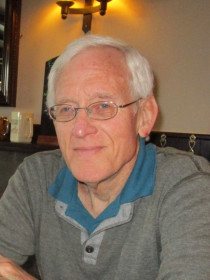 Daniel
C.
Bryant
Clinical Assistant Professor (retired), University of Vermont Medical School
Chair of Physicians Working Group, Maine Allcare
Connect with Daniel
About Daniel
Bryant's research focuses on medical professionalism and healthcare reform. Overarching themes in Bryant's writings include the pros and cons of the single-payer model and threats to medical professionalism from corporate pressures. After receiving his M.D., Bryant practiced Internal Medicine in both office and hospital settings for thirty years and taught on the teaching service of a quaternary hospital in Portland Maine.
Publications
"
Single-Payer Health Care: Financial Implications for a Physician
"
International Journal of Social Determinants of Health and Health Services
52
, no.
3
(
2022
):
309–311
.
Compares the net income of a hypothetical physician in the current healthcare system with what it would be in five different state-based single-payer plans. Finds that income would remain about the same or higher.
"
Medical Professionalism: Who Needs It?
"
Journal of Maine Medical Center
1
, no.
1
(
2019
).
Argues that the meaning of medical professionalism is evolving, adding a sense of the physician's responsibility for the health of the population to the traditional sense of responsibility for the individual and for physician autonomy. Mentions how speaking out in support of "access to medical care for all people," for example, could go a long way toward reassuring the public that medical professionalism is alive and well, and that, yes, physicians do deserve their respect.