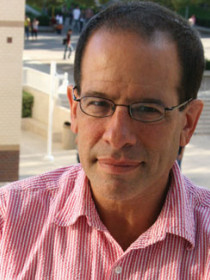 David
S.
Meyer
Professor of Sociology, Political Science, and Planning and Public Policy, University of California-Irvine
Connect with David
About David
Meyer's work focuses on the origins, development, and influence of social movements, mostly focused on the United States and other rich countries. Overarching themes in Meyer's writings include the relationship of protest to public policy and to mainstream politics, as well as the organization of protest movements. Meyer engages with local organizations, including the League of Women Voters and Planned Parenthood, and students groups.
Publications
Routing the Opposition: Social Movements, Public Policy, and Democracy
(
University of Minnesota Press, 2005
).
Examines the interaction of social protest and public policy, with a particular focus on American politics.
The Resistance: The Dawn of the Anti-Trump Opposition
(edited with ) (
Oxford University Press, 2018
).
Provides the first examination of the emergent resistance to the Trump Presidency, with attention to the goals and organization of civic groups.
The Politics of Protest: Social Movements in America
(
Oxford University Press, 2015
).
Provides a comprehensive overview of how social protest movements develop and work in American politics, and their relationship with mainstream politics, including elections and public policy.
Understanding the Tea Pary Movement
(edited with ) (
Routledge Press, 2014
).
Discusses the sudden emergence and uncertain fate of the Tea Party movement, and addresses challenges the movement poses to mainstream American politics and scholars of social movements.
A Winter of Discontent: The Nuclear Freeze and American Politics
(
Praeger, 1990
).
Examines the emergence of a powerful global movement against nuclear weapons in the early 1980s, and its institutionalization in mainstream politics.