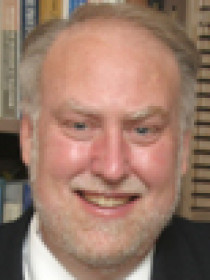 David
Brian
Robertson (1951-2020)
1952 - 2020
Curator's Teaching Professor of Political Science, University of Missouri-St. Louis
About David
Robertson studies the way American political institutions affect economic, labor, social, and environmental policy. He has written about the development of U.S. organized labor and labor market policy; the design of the U.S. Constitution and its effects on public policy; and the development and impact of U.S. federalism. Robertson frequently comments on U.S. and Missouri politics and policy on local television and radio, and he has given more than 150 public presentations to community groups, interest groups, and educational forums, speaking to audiences that citizens of all partisan and political persuasions.
No Jargon Podcast
In the News
Guest to discuss
2012 Iowa caucus results
on
KSDK
, David Brian Robertson (1951-2020),
January 4, 2012
.
Guest to discuss
2012 election campaign
on
St. Louis Public Radio
, David Brian Robertson (1951-2020),
December 15, 2011
.
Guest to discuss
2010 election results
on
KSDK
, David Brian Robertson (1951-2020),
November 3, 2010
.
Publications
The Original Compromise: What the Constitution's Framers were Really Thinking
(
Oxford University Press, 2013
).
Explains the reasoning of the Constitutional Convention, organized topically like the Federalist Papers but based on the actual Convention debates.
Federalism and the Making of America
(
Abingdon, UK, and New York: Routledge, 2011
).
Explains the way U.S. federalism has served as a political battleground from the nation's founding to the present, and probes how federalism helps to shape economic development and policies addressing racial, social, and environmental issues.
The Constitution and America's Destiny
(
Cambridge and New York: Cambridge University Press, 2005
).
Explains the politics of the 1787 Constitutional Convention and its impact on U.S. democracy, national authority, federalism, and national policy-making.
Capital, Labor, and State: The Battle for American Labor Markets from the Civil War to the New Deal
(
Rowman and Littlefield, 2000
).
Traces the development of organized labor and business in the United States, and explains why this country implemented more business-centered labor market policies than other industrialized democracies.
"
Political Conflict and Lesson-Drawing
"
Journal of Public Policy
11
, no.
1
(
1991
):
55-78
.
Examines the politics of drawing lessons from the approaches other nations have taken to tackle key policy issues.
The Development of American Public Policy: The Structure of Policy Restraint
(with ) (
Scott, Foresman, 1989
).
Explains the development of U.S public policy since 1787, with special attention to race, cities, educational and environmental policy.