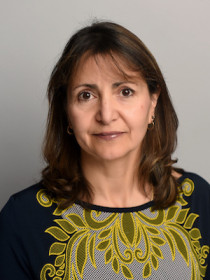 Diana
Romero
Associate Professor of Community Health and Social Sciences, City University of New York
Connect with Diana
About Diana
Romero's public health research interests include social welfare policies related to the health of populations, including Latino, African American, poor and low-income populations; community-engaged research pertaining to health care access among underserved populations; and maternal, child, reproductive and sexual health and policy. Some of her recent research projects include safety-net health care utilization among uninsured immigrants; a large-scale, in-depth interview study of adults' family formation attitudes and behaviors; and, integration of reproductive health services in primary health care settings. Romero teaches graduate courses in research methods, community health, and reproductive and sexual health policy.
Publications
"
The Welfare Family Cap: Reproductive Rights Control and Poverty Prevention
" in
Radical Reproductive Justice: Foundations, Theory, Practice, Critique
, edited by
Loretta J. Ross, Lynn Roberts, Erika Derkas, Whitney Peoples, and Pamela Bridgewater Toure
(
Feminist Press, 2017
),
381-396
.
Demonstrates how the current welfare family-cap policy is a continuation of the history of reproductive rights violations of poor women. Moreover, the continuation of this policy despite evidence that it has not been effective, is indicative of its use as a punitive measure against poor women and families.