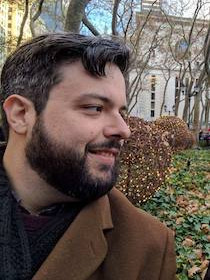 Ed
Simon
Editor-at-Large at the Marginalia Review of Books; and Adjunct Assistant Professor of English and Media Studies, Bentley University
Connect with Ed
About Ed
Simon's research and public writing focus on religious literacy, pluralism, free speech, religious rhetoric in progressive politics, American civil religion, humanities funding, the public humanities, and social justice. He was a founding member of the International Society for Heresy Studies, and is currently a senior editor at The Marginalia Review of Books, a channel of the Los Angeles Review of Books. 
Contributions
Publications
America and Other Fictions: On Radical Faith and Post-Religion
(
Zero Books, forthcoming
).
Considers our current cultural and political crisis, asking what use does theological language have for the radical facing the apocalypse?
Furnace of This World; or, 36 Observations about Goodness
(
Zero Books, forthcoming
).
Attempts to provide a fragmentary, digressive, impressionistic account of what the radical implications of goodness could possibly be in late capitalism.
The Anthology of Babel
(
Punctum Books, 2018
).
Publishes academic articles by scholars on authors, books, and movements that are completely invented. Inaugurates a completely new literary genre perfectly attuned to the era we live in, a project evocative of Jorge-Luis Borges, Umberto Eco, and Italo Calvino.
"
The Death of God, Again
"
The Marginalia Review of Books
(
2016
).
Discusses the Death of God movement, modernity, and the affirmation of God.
"
Why Sin is Good
"
The Marginalia Review of Books
(
2017
).
Discusses the original sin for a secular age.