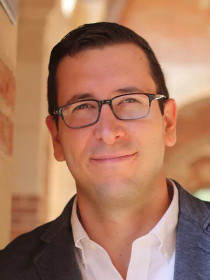 Edward
Walker
Professor of Sociology, University of California, Los Angeles
Connect with Edward
About Edward
Walker's research focuses on social movements, the political mobilization and influence of business, and organizational and organizing processes. His primary area of work involves understanding how businesses have adopted grassroots organizing practices, as well as the ways that social movement groups and community organizations challenge companies, governments, and other institutions. He is also interested in the politics of health and health care, contention surrounding energy politics and the environment, and corporate social responsibility. He has consulted with community organizations and foundations, and has taken part in efforts to build bridges between university research and the needs of local communities.
Contributions
Publications
"
The Political Mobilization of Firms and Industries
" (with ).
Annual Review of Sociology
40
(
2014
):
281-304
.
Provides a systematic review of the research literature on the strategies firms and industry groups deploy in order to advance their interests. Discusses how these strategies fit into business and broader political contexts.
Grassroots for Hire: Public Affairs Consultants in American Democracy
(
Cambridge University Press, 2014
).
Shows how, spurred by the post-1960s explosion of new advocacy organizations and rising business political engagement, elite consultants have learned how to deploy new technologies to commercialize mass participation. Uses evidence from interviews, surveys, and public records to paint a detailed portrait of these consultants, their clients, and the effects of their campaigns on participation and policymaking.
"
Legitimacy, Strategy, and Resources in the Survival of Community-Based Organizations
" (with ).
Social Problems
57
(
2010
):
315-340
.
Examines the longevity of Community-Based Organizations between 1990-2004 and finds that beyond the considerable effects of externally obtained resources, CBOs also benefit substantially by engaging in even a small amount of grassroots fundraising, as well as by making efforts to signal their legitimacy to local communities.
"
Privatizing Participation: Civic Change and the Organizational Dynamics of Grassroots Lobbying Firms
"
American Sociological Review
74
, no.
1
(
2009
):
83-105
.
Examines the founding of Grassroots Lobbying Firms (GLFs) that mobilize public participation on behalf of paying organizational clients such as corporations and industry associations using direct mail, phone banking, and other communications technologies as the field expanded in dramatic fashion in the closing decades of the 20th century; finds that these consulting firms were founded primarily in response to the changing advocacy environment and in line with expanding business political activity.