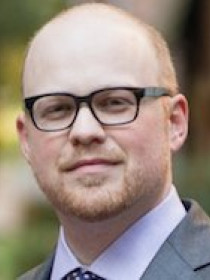 Erik
Love
Assistant Professor of Sociology, Dickinson College
Connect with Erik
About Erik
Love studies civil rights advocacy organizations in the United States. He teachers courses on social movements, race and racism, and qualitative social science methods. His first book, Islamophobia and Racism in America, was published in 2017. Love has presented his research at several academic conferences, in peer-reviewed journals, and his essays have been published on the Huffington Post and on Al Jazeera. His work has won the support of the National Science Foundation, the Richard Flacks Fund for the Study of Democracy, and Emory University's James Weldon Johnson Center for the Study of Race and Difference. Originally from Detroit, he has traveled widely, including stints in places like Jerusalem, Cairo, and Kyoto. Love is also a Fellow at the Institute for Social Policy and Understanding, a research foundation centered on Muslim American communities and issues. 
Contributions
Publications
"
Caught in a Racial Paradox
,"
CUNY FORUM
,
August 2017
.
Shows how a racial paradox has caught up Middle Eastern American identity, where communities ascribed with that identity face racial discrimination, yet they have not gained wide recognition specifically as communities of color. This essay describes how scholarship and media have contributed to this paradoxical paralysis.
Islamophobia and Racism in America
(
New York University Press, 2017
).
Argues that Islamophobia stems from the same root as white supremacy and related longstanding racist institutions in the United States. Examines the strategies developed within Arab, Muslim, Sikh, and South Asian American advocacy organizations that wrestle with racial politics as they push back against harmful, discriminatory policies and anti-Muslim rhetoric, with wider implications for the development of "colorblindness" and civil rights advocacy in the United States.
"
Strategic Racial Identity: Second Generation Muslim American Advocates
" in
Growing Up Muslim
, edited by
Mehdi Bozorgmehr and Phillip Kasinitiz
(
Routledge, 2017
).
Shows that beginning around 2010 and continuing at least until 2016, some second-generation Muslim American advocates led renewed efforts to codify and co-opt a new racial identity category that would include Arab, Muslim, Sikh, and South Asian Americans. Discusses how resistance to recognizing such a racial identity category, seen as insurmountable in the 1990s and in the first decade of the 2000s, began to wane in the 2010s.
"
What to Do About Islamophobia: Why the Election Matters
"
Institute for Social Policy and Understanding
(
2012
).
Provides specific policy recommendations for reducing the influence of Islamophobia and anti-Muslim bigotry, directed toward policymakers at the local, state, and federal level.