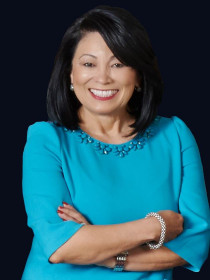 Gloria
Bonilla-Santiago
Board of Governors Distinguished Service Professor of Public Policy and Administration, Rutgers University-Camden
Connect with Gloria
About Gloria
Santiago directs the Community Leadership Center and is the overseer and Board Chair of the LEAP Academy University Charter School. Santiago's record of service and the impact of her work on poor children and families, minorities, and community are exemplary by any standard. She is a passionate and enthusiastic educator, who has focused her professional acumen on helping people to be able to become self-reliant citizens through education and professional development. Her work on behalf of children and families has resulted in the development of a model charter school in Camden City that today serves 1,400 students in grades from infants to -16th and has become a hub for serving the families of these children through a number of LEAP portfolio schools in Camden City.
Contributions
Publications
"
Higher Education for Puerto Rico's Future Recovery and Sustainability
" (with ), in
How Hurricane Maria Forges PR's Economic Future
(
H. Calero Consulting Group, Inc., 2018
).
Proposes strategies for the rebuilding of Puerto Rico.
"
Weathering the Storm — Challenges for PR's Higher Education System
" (with ), in
How Hurricane Maria Forges PR's Economic Futurw
(
H. Calero Consuling Group Inc., 2018
).
Discusses the intersection of institutions of higher learning and natural disasters to present the opportunity for those institutions to assess their role as anchors of their communities.
"
The Leap Case Study— A Comprehensive Model
,"
International Conference of Education, Research, and Innovation
,
November 1, 2016
.
Presents a model for how to build and sustain, over a period of twenty years, one of the best urban public schools in the nation, with 100 percent high school and college graduation rates during this period of time. Shares the challenges and obstacles, potential resources, and support of fellow professionals that moved the LEAP academy from a smaller charter school to its top position today.
Miracle on Cooper Street, Lessons from an Inner City
(
Archway Publishing, 2014
).
Discusses evidence of how a school leader transformed Cooper St. into a successful school that produces 100% graduation rate and college placement. Best practices around urban school reform and transformational leadership.