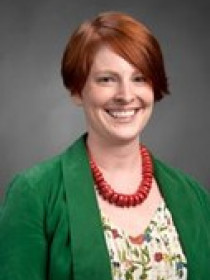 Grace
E.
Howard
Assistant Professor of Justice Studies, San Jose State University
Connect with Grace
About Grace
Howard's research focuses on constitutional law, law and society, bioethics, the politics of reproduction, criminal justice, public policy, feminist theory and critical race theory. Overarching themes in Howard's writings include pregnancy discrimination and the relevance of law. Howard serves as co-director of the Rutgers University Informed Consent Project and is an American Fellow with the American Association of University Women.
Publications
The Gender of Crime
(with ) (
Rowman & Littlefield, 2017
).
Provides a broad overview of gender as it relates to crime, including criminal justice institutions, the law, victimization, perpetration, and employment in criminal justice systems.
"
Illegitimate Appetites: Michelle Obama's Let's Move Campaign as Sexual Regulation
" in
Black Women in Politics
, edited by
Nikol Alexander-Floyd and Julia Jordan-Zachery
(
State University of New York Press, 2018
).
Explores Michelle Obama's anti-obesity campaign as a sexual deracialization strategy.