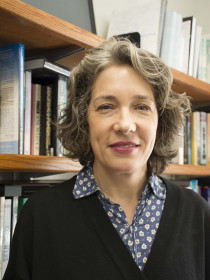 Hilary
Botein
Associate Professor of Public and International Affairs, CUNY Bernard M Baruch College
Connect with Hilary
About Hilary
Botein's research focuses on the factors that influence urban development, with special attention to the social politics of policies and programs underlying affordable housing and community development. She also is interested in how housing programs can meet the needs of vulnerable populations – and in how they fail. Prior to her academic career, she worked for eighteen years as an attorney and policy analyst on affordable housing and economic justice issues, primarily in New York City. She serves as a public member on the New York City Rent Guidelines Board, which determines rent adjustments for all rent-stabilized apartments in New York City.
Publications
Home Safe Home: Housing Solutions for Survivors of Intimate Partner Violence
(with ) (
Rutgers University Press, 2016
).
Describes the importance of housing for survivors of intimate partner violence (IPV), using a multifaceted analysis that accounts for both IPV survivors' needs and the practical challenges involved in providing them with adequate permanent housing. Considers federal and state policies and funding programs determining housing for IPV survivors, and provides detailed case studies that put a human face on these policy issues.
"
From Redlining to Subprime Lending: How Neighborhood Narratives Mask Financial Distress in Bedford-Stuyvesant, Brooklyn
"
Housing Policy Debate
23
, no.
4
(
2013
):
714-737
.
Shows how longtime homeowners are averting foreclosure while making sacrifices that are not apparent from data for mortgage foreclosures, neighborhood appearance, or initial conversations with residents and community leaders. Suggests that efforts to address the subprime lending and foreclosure crisis and to prevent its recurrence should include homeowners who are not in foreclosure, but may nonetheless be struggling, and that solutions must consider homeowners' relationships with their communities.
"
Tax Lien Sales as Local Neoliberal Governance Strategy: The Case Of Waterbury, CT
" (with ).
Local Economy
28
, no.
5
(
2013
):
462-472
.
Argues that Waterbury's efforts to resolve its fiscal stress by enhancing short-term revenues ultimately further constrained its revenue base, the tax lien sales reflected a spatial selectivity that created barriers to revitalization when neither the city nor tax lien purchasers had incentives to foreclose on distressed properties in struggling neighborhoods, and the tax lien sales' failure to resolve the city's budget crisis set in motion new efforts at tax base enhancement through real estate-led development in the central business district that also were unsuccessful.